Chicken Sholay Kabab is a dish cooked in a masala dar batter and deep-fried till crispy. This spicy chicken kebab is garnished with crisp-fried curry leaves and served with raita. This dish can be served as an appetiser at a celebration. In this article, we will share the most delicious dish that is the Chicken Sholay Kabab Recipe.
About Chicken Sholay Kebab Recipe
This is a South Indian delicacy made with boneless chicken, and Chicken Sholay Kebab is a popular dish in Kerala. Before being deep-fried in heated oil, the chicken is covered in a spicy batter composed of all-purpose flour, gram flour, rice flour and then fried until golden brown.
Kebabs are meat-based kebabs, such as the Chicken Sholay Kebab, that are served on skewers. Chicken Sholay kabab, a famous charcoal-grilled chicken dish, is available at many restaurants across India, especially in south India. Side dishes such as biryani or naans are good accompaniments to this entrée.
There are several names for the same dish that are used in India and around the world. Along with these sizzling kebabs, a crunchy garnish of fried curry leaves completes the main chicken course.
On any afternoon, you can serve Chicken Sholay Kabab Recipe with Steamed Rice and with the choice of your bread or as a starter or as part of a complete meal, depending on your preference.
Cooked with boneless chicken and spices, Chicken Sholay Kebab is a traditional kebab meal from South India served with rice. Before being deep-fried in heated oil, the chicken is covered in a spicy batter composed of all-purpose flour, gram flour, rice flour and then fried until golden brown.
As was the case in many parts of the world, Kebabs were traditionally roasted in a clay oven. If you do not have access to a tandoor, you may achieve a similar flavour by first frying the meat in a skillet and then smoking it over charcoal to achieve a charred finish.
All of the items in your pantry should be easily accessible at all times. Wooden skewers should be soaked in warm water for at least an hour before use to avoid scorching.
Ingredients for Chicken Sholay Kabab
Let's get started with the ingredients and the recipe of the Chicken Sholay kabab, and we are sure you are going to love this delicious and exciting recipe. Don't forget to order Boneless chicken From Giggsmeat.com and enjoy this amazing recipe and the ingredients that we need to make this recipe are as follows: Boneless chicken cut into pieces. Sprig Curry Leaves, ginger-garlic green chilli paste, Ginger Julians, Garlic Cloves, Finely chopped green Chillies. To make the batter to coat the chicken, you need Rice flour, Maida, besan, Kashmiri Red Chilli Powder, Salt as per taste, Sambar Powder, Cumin powder, Coriander Powder, Oil to deep fry.
You'll need the following materials to make Chicken Sholay Kebab, which you can find in any grocery store.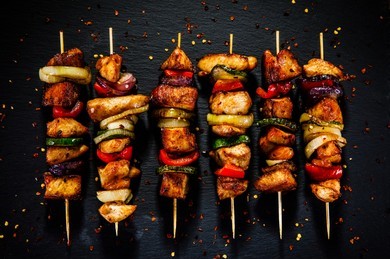 Recipe to Make the Chicken Sholay Kabab Recipe
Step 1: When creating the Chicken Sholay Kabab Recipe, only boneless chicken cubes that have been thoroughly cleaned and sanitised should be used. The only equipment required to prepare Ginger Garlic Green Chilli Paste is a food processor, and the ingredients should be pureed in a blender jar.
Step 2: In a large mixing basin, combine all of the ingredients for the Chicken Sholay Kabab batter. Before adding the ingredients to the batter, combine the besan, rice flour, and maida in a mixing bowl until well combined. The cumin, coriander, ginger-garlic green chilli paste, and Kashmiri red chilli powder should all be mixed in a separate bowl before adding the red chilli powder.
Step 3: Using just the right amount of water, you may turn your batter into a thick, coating-like consistency. In a deep fryer, bring the oil to a boil over medium-high heat until it is very hot. Once the oil has achieved the desired temperature, reduce the heat to medium.
Then, one by one, drop the battered boneless chicken pieces into the hot oil until golden brown.
Step 4: Chicken Sholay Kebabs are finished when they are golden brown and crispy on the outside. After draining the excess oil from the chicken breasts, place the Sholay kebabs on a piece of absorbent paper to rest.
Step 5: Once the curry leaves have been crisped up, they should be drained on absorbent paper to cool. The crispy fried curry leaves are placed on top of the Chicken Sholay Kebab.
Enjoy this amazing and delicious recipe with your family, and make sure you cook this recipe from the Giggsmeat boneless chicken.