Non-veg Food has many health benefits for developing children and plays an important role in their growth and development. Children must have a well-balanced diet that includes foods from all the food groups to ensure that they receive a wide variety of nutrients throughout their life.
Because children's appetites vary depending on their age, stage of development, and level of activity, it's important to serve them portions that are proportional to their size. Begin with a small amount and provide more to a child who asks for it. Therefore the parents need to provide the best quality food products and the food products needed for their growth and development.
What kids should consume Food:
A) Foods high in carbohydrates
Consuming high-energy foods like those included in this category is critical for growing children, who are constantly on the move.
Aside from that, they're loaded with nutrients like fibre and important vitamins and minerals your body needs to grow and develop properly.
This food group should be featured prominently in children's meals to keep them interested.
Having a hearty breakfast of whole-grain cereals and oats is a terrific way to start your day because they are packed with nutrients like fibre and B vitamins.
To avoid tooth decay and the development of a sweet tooth when your child gets older, use low-sodium cereals instead of sugar-coated ones.
In place of snack noodles that are often heavy in fat and salt, you can offer brown rice and wholewheat pasta instead to your kids, and they are sure going to enjoy it.
Offer them Potatoes baked or boiled instead of fried. Cutting them into wedge shapes allows you to create your wedges.
B) Fruits and Vegetables
Fruits and vegetables rank near the top of the food chain in terms of nutritional value. Eat at least five servings of fruits and vegetables a day to help your child get in the habit.
Children should consume fruits and vegetables of all kinds to maintain a well-balanced diet of vitamins and minerals.
For fruit, you can use any of the above methods. Just keep in mind that fruit juice and smoothies count as one serving regardless of the amount of fruit they include and that they should be consumed only once a day at mealtime.
C) Protein Rich Food
The protein-rich foods include beans, lentils, seafood, and eggs, but many more to choose from.
These meals are loaded with protein, fibre, and essential vitamins and minerals like Iron.
Consequently, we all require protein in our meals to function correctly. Protein is required for a wide range of bodily processes.
Cooking fresh herbs and vegetables will give your dinner an extra pop of flavour while also adding colour and texture.
Eating eggs as a meat substitute is a cost-effective and flexible choice.
It is possible to make scrambled eggs in several ways, including boiling, poaching, or frying.
Eggs are really good for all the kids that are growing and developing and are a great source of protein and energy and improve your children's inner strength.
Fish contains a lot of protein. Fish is the best non-vegetarian option for growing children.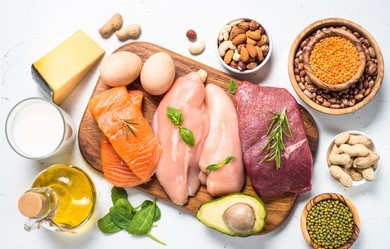 A wide spectrum of vitamins and minerals can be found in fish, in addition to a high concentration of physiologically active protein.
Omega 3 fatty acids and various other vitamins and minerals are significant for their inclusion in this supplement.
It's possible to eat enormous quantities of many different types of fish, but the most popular are tuna, halibut, and salmon.
Fresh Raw Fish comprises some beneficial components, and these components are omega-3 fatty acids, vitamin A, Vitamin B and various antioxidants. It also feeds the retina, which helps to maintain normal vision and vision quality.
Fish has various Health benefits for Children, and they are as follows:

Improves Vision
Strengthens their bones
Improving focus
Establishing excellent behaviour
Increasing your child's reading ability
Boosting good sleep
Relaxing Mind

When consumed regularly, fish's omega-3 fatty acids reduce the risk of cancer in the mouth, throat, colon, breast, and ovaries. As a bonus, it includes the anti-cancer mineral selenium, which helps produce an enzyme that helps prevent cancer from developing.
Fish is an excellent source of omega-3 fatty acids. The consumption of iron-rich foods can help prevent anaemia due to a lack of iron in the blood.
Fresh raw Chicken is a fantastic source of high-quality protein for developing children because it aids in their growth and development.
As children grow, the large number of amino acids found in chicken aids to support their growth and development.
Chicken is a nutrient-dense and filling dinner option for growing children.
The calories they take in are minimal, but their stomachs are full for several hours after that. By doing this, you'll be less likely to end the day with unhealthy snacks.
When it comes to the kid, and teen favourites, chicken products and processed meats such as sausages, salamis, and bacon usually top the list. In light of the high fat and salt content, it is suggested that you consume them in moderation
Red meats such as beef, lamb, and pork should be consumed in moderation. Due to the high level of saturated fats, it's not recommended because it can be bad for your health in the long run.
Wrapping up:
No matter how many times we try, we always end up with the same dilemma when introducing non-vegetarian meals to our children.
Non-Vegetarian FoodFood is best for your children and is the best source of Iron, quality protein, healthy fat, vitamins and minerals are abundant in non-vegetarian diets and are especially good to developing children's haemoglobin levels as well as their ability to build and maintain physical stamina and endurance as they become older.
Therefore in all its a good idea to introduce non-vegetarian foods in your kid's diet and give them a healthy life and tell the importance of health from the very beginning.