This spicy chicken curry recipe is a must-try for non-vegetarian diners who enjoy spicy foods. It is filled with flavor thanks to adding lemon juice, tomato puree, onion puree, Loads of ginger, garlic, green chilies, and various spices to this traditional Indian chicken curry recipe.
About Spicy Chicken Curry Recipe
Apart from tasting delicious, this chicken curry is also fairly nutritious, thanks to the high protein level of the ingredients. A delicious chicken dinner may be on the table in minutes if you follow the instructions below carefully.
This North Indian chicken dish is hence suited for special events such as wedding anniversaries and potlucks. Savory side dishes such as steamed rice and butter naan or garlic Naan or paratha pair perfectly with this beautiful and flavourful dish. All non-vegetarians undoubtedly love the dish. Those who are not vegans should, without a doubt, attempt this chicken meal recipe.
Spicy chicken curry is a well-known Indian dish made with various exquisite spices and served over rice. There have already been several chicken curry recipes posted on the blog.
Chicken curry recipes are authentic and straightforward to produce, necessitating no lengthy ingredient list or lengthy preparation time in the kitchen. Most Indian foods are pretty simple to prepare, especially when compared to western cuisine.
The components used in Indian cuisine can be frightening to a beginning cook. You will find that cooking Indian food will become second nature once you have mastered the spices and procedures.
This chicken curry is made delicious by combining various spices and green chilies. The chicken, as well as the sauce, are both tender and delectably delicious.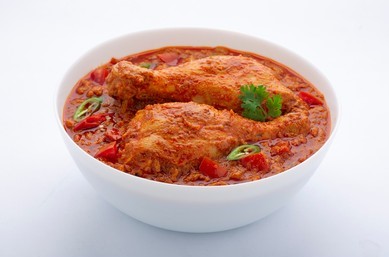 Our Recipe of Spicy Chicken Curry
When it comes to making a good curry, freshly ground spices are essential. It is impossible to overstate how important this is. Unrivaled in terms of fragrance and flavor combo and Spicy chicken curry is the dish loved and enjoyed by all non-vegetarian lovers. A few handfuls of ingredients are needed to prepare this dish and are readily available.
Let's look at the ingredients that we need to make this dish and the Recipe to make this dish.
For this dish, you'll need some fresh green chilies to get started. The addition of green chilies to the chicken curry is essential to enhancing the dish's flavor, making it extra spicy, and punching a dish.
The fresh raw chicken should be cooked in the Gravy so that both chicken and Gravy get along together and make the balance of flavors and taste, allowing it to absorb the flavors of the Gravy as it cooks. This is called simmering. Bone-in chicken is required due to the loss of flavor that occurs when boneless chicken is used.
Using mustard oil or ghee to enhance the flavor of this chicken curry is a good idea.
To save time, cook the chicken curry over low heat with the lid closed as much as possible.
In contrast, the flavor and fragrance will more than make up for the time lost due to the delays. Spices are essential for the flavor of this dish; consequently, they should not be omitted.
Once the ginger garlic paste has been added, continue to sauté until the raw fragrance has dissipated and the oil has separated, at which point the dish is ready to serve. Whether you're making a vegetarian Indian stew or a meat-based Indian stew, this is an essential step to take.
Now, after these essential tips and tricks to cook the perfect spicy Chicken curry recipe, Let's start with the ingredients we need to make this flavourful Recipe.
Ingredients of Spicy Chicken Curry
1 Chicken, tomatoes, garlic paste, ginger paste, green chili paste, cinnamon stick, bay, garam masala powder, kasoori methi powder, onion, cashew paste, cumin seeds, dry red chili, coriander powder, vegetable oil, To Marinate salt to taste, lemon juice, turmeric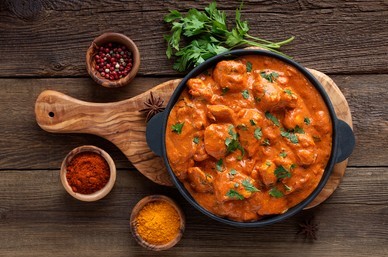 Recipe by Steps to prepare the Spicy Chicken Curry
Step 1: Wash the fresh raw chicken ordered from Giggsmeat.com.
Before moving on to the next step, rinse the chicken and roast the whole spices in a skillet over medium heat until fragrant.
To begin, thoroughly wash the chicken and set it away for later use. After that, oil a nonstick skillet and set it aside to cool.
It is now time to integrate spices such as cumin, cinnamon, and bay leaf into your meal. When the seeds begin to crackle, the cooking process is complete.
Step 2 – Marinate the chicken in the marinade for 30 minutes,
In a large mixing basin, combine the salt, turmeric powder, and lemon juice to make the marinade for the chicken and keep it aside for the next 30 minutes to an hour.
Step 3- Start Preparation to make the Gravy
To make the Gravy, blend the onions, cashews, and red chilies to paste with the remaining ingredients.
If you want to make a thick puree out of your onion, toss it in a blender with 1 cup of water and process until smooth. Water. Also, make a cashew paste by blending it In a food processor, pulse the ingredients until they form a smooth mixture. To make a thick paste, make a paste of the red chilies in the food processor and add half a cup of water until they become a paste.
Step 4: Take a wok to make the Gravy.
Three-fold Cook the onion and tomato puree in the pot with the lid on. At this point, you can add the onion, ginger, and garlic pastes to the mixture.
Cook for two minutes on low heat. After adding the tomato puree to the pan, cook for an additional 2 minutes on medium heat. Season with salt and red chili paste to taste if desired. To keep the heat in the pan, cover it with a lid.
Step 5- Prepare the chicken Before Adding it to the Gravy
Combine the red chili paste, chicken, and cashews in a large mixing bowl until well combined.
Continue to simmer the chicken pieces for another 15 to 20 minutes, covered, while often checking to ensure they are cooked to your satisfaction.
After adding the cashews and red chili paste, cook the mixture for two minutes on medium heat.
Following the addition of the ingredients, cook the chicken. Toss in the garam masala, coriander powder, cashew nut paste, and Kasuri methi into the bowl until well combined.
Step 6- Ready to Serve
Remove the pan from the heat and continue to cook the chicken curry for another 5 minutes. Garnish the spicy Chicken curry with some finely chopped coriander.
Serve the dish with hot rice or paratha accompanied with some sliced onions and mint chutney, and it is ready to be served to the table and enjoyed with friends and family.
Enjoy this fantastic Recipe of Spicy Chicken Curry, and don't forget to make it from the Giggsmeat.com Raw fresh chicken online and enjoy the most flavourful and delicious chicken Recipe.