Your taste buds will fall in love with this delectable Rajasthani Style Mutton Banjara, which can be prepared quickly and easily in a pressure cooker in just a few minutes. The subtle combination of onions, ginger, and garlic, simmered with spices and curd, transforms this dish into something truly delectable. For an unforgettable weekend lunch or dinner, serve with Jeera rice and Kulcha.
A straightforward Mutton Curry recipe that calls for only a few basic ingredients and cooking techniques. There is no need to marinate or prepare this dish for an extended period, making it an excellent choice for those who are short on preparation time. Mutton Banjara is a simple and delectable Rajasthani dish that is served with rice. In this article, we are going to talk about the Rajasthani Style Mutton Banjara Recipe.
About Rajasthani Style Mutton Banjara Recipe
Mutton Curry is made with only a few simple ingredients. This Recipe is perfect for short on time because it does not require any marinating or lengthy cooking.
Mutton Banjara, as the name suggests, is a dish made with mutton that is served hot. Rajasthani Mutton Banjara is a delectable weekend lunch dish that can be served with Roomali Roti, Phulkas, or steaming rice. Mutton Banjara is a dish made with only a few simple ingredients and a few basic culinary skills.
Dieters and people on calorie-restricted diets should avoid this Recipe, even though it is simple to prepare and takes little time. A significant amount of oil is used in this dish, and it has a slightly spicy flavour. Ghee is a cooking oil that is made from cow's milk.
Nevertheless, it is possible to modify the amount of oil consumed at any given time; nevertheless, this will not produce the necessary Rogan.
On weekends, you can usually cook this Recipe and serve it with steamed plain rice and raita, which are both delicious. The Rajasthani Banjara Mutton and Roomali Roti go together like Butter Chicken and Garlic Naan.
History of Rajasthani Style Mutton Banjara Recipe
Known in Hindi as Banjara, this nomadic ethnic tribe does not have a permanent residence as described by the term referring to them. Originally from Rajasthan, the Banjaras are a nomadic tribe. A long time ago, the Banjaras were involved in the livestock and salt trades. The grain traders were well-known for carrying commodities across long distances before the introduction of railways, and they traded grain before the development of railways.
The Banjara enjoy non-vegetarian foods such as mutton, fowl, and fish, which are not available. Aside from that, they are big fans of hot and spicy food. Because the Banjara tribe of Rajasthan is renowned for its spicy cuisine, We've altered a recipe from that region for today's lunch to suit your taste, and we are going to share this amazing and delicious Recipe.
As the name says, Rajasthani Banjara cuisine has its roots in the Banjara people of Rajasthan. This Recipe is a must-have for non-vegetarian Rajasthani cuisine, and it is adapted from a traditional recipe. Even though it is only a handful of simple ingredients, this Rajasthani Banjara Mutton Curry is amazingly flavorful and delicious.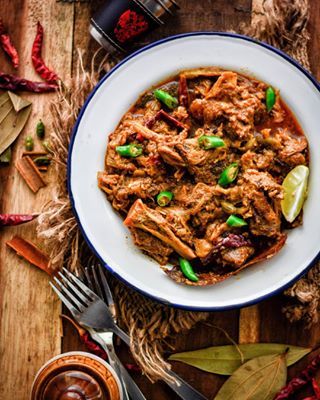 Recipe Tips:
Tip 1- Curd, If you use too much plain or sour curd, the flavour of the curry will be overpowered by the curd. A cup of curd can be used in place of the sour curd if you don't have any on hand. If your curd is overly sour, reduce the number of whole spices used to half the original amount. When making curry, it is vital to incorporate all spices to create the most flavorful result.
Tip 2- Red Chili Powder (also known as chile powder): Rajasthani cuisine is renowned for its liberal use of red chiles in its preparations. To be utilised in any way you see fit.
Tip 3- Coriander seeds that have been freshly ground The roasted and crushed coriander seeds give this Mutton Curry a rustic flavour that complements the mutton. This is a book that everyone should read at some point in their lives.
Ingredients and Recipe to make Rajasthani Style Mutton Banjara Recipe
Some flavourful ingredients are used to make the delicious Mutton recipe, make sure you buy freshest Raw mutton from Giggsmeat.com online, and you will get hassle-free delivery from them at your doorstep.
The Ingredients that are required to make Rajasthani Style Mutton Banjara are as follows Mutton, Mustard oil; Onion sliced, Garlic cloves, Ginger finely chopped, Kashmiri Red Chilli Powder, Coriander Powder, Turmeric powder, Bay leaf, Cloves, Cinnamon Stick
Cardamom, Black Peppercorns, Dry Red Chilli, Cup Curd, Salt as per taste, Coriander Seeds, Coriander leaves finely chopped.
Traditional Rajasthani Style Mutton Banjara Recipe – How to Make Mutton Banjara
Step 1: Gather all of the ingredients essential to make Rajasthani Mutton Banjara before you begin cooking. Mustard Oil and spices should be added once the pressure cooker has been warmed to a medium-high setting. After a minute, add the bay leaf, cinnamon, cloves, cardamom, and dried red chillies, and cook for another minute, constantly stirring to prevent sticking. The presence of a faint brown hue on the onions suggests that they are beginning to soften.
Step 2: After 3 to 4 minutes of frequently stirring on high heat, add the curd to the mutton and cook for another few minutes. Seasonings such as salt, turmeric, red chilli powder, and coriander powder should be added to the mixture. Depending on the consistency of the gravy you prefer, you can add some water.
Combine the fresh raw meat and curd until they are thoroughly combined. Guarantee that the curds have completely evaporated before serving to ensure that there is no liquid left.
Step 3: Pressure Mutton Banjara should be cooked for at least three whistles to be considered properly done. Reduce the heat to low immediately after the first three whistles and continue to cook for another 10 minutes after that. Maintain as much calm as possible and let the pressure subside. Coriander seeds that have been crushed and coriander leaves that have been chopped should be served as soon as they have been added to the dish as possible.
Step 4: Serve Rajasthani Mutton Banjara with Jeera Rice Recipe, Whole Wheat Onion Stuffed Kulcha, and Mooli Raita as a wonderful weekend lunch option for your guests.
Rajasthani Mutton Banjara is a wonderful weekend lunch dish that can be served with Roomali Roti, Phulkas, or steaming rice.
Make sure you try this amazing Recipe at home and order the Freshest Raw mutton from Giggsmeat.com and enjoy this Amazing Recipe with your friends and family.