Spring rolls are an East and Southeast Asian appetizer and are enjoyed by people of all ages, especially kids. You can stuff and roll them, and even deep freeze them and be ready for any party or any gathering and enjoy them. This week, we're going to show you how to make the tastiest Minced Mutton Spring Rolls.
About Spring Roll Recipe with Minced Mutton
Crispy spring rolls packed with minced mutton is one of the most delicious starters or appetizer for any party or any gathering, and this recipe can be made easily at home with only a bit of effort. You can pre-made this amazing starter at home and keep it in a freezer and take it out just before the party and deep fry them and serve them with the delicious and tempting mint chutney and chilli garlic sauce and enjoy this delicious and crispy recipe. This recipe is an Indian version of spring rolls, and ideally, it's an Asian dish, and we will make this recipe in Indian style with some Indian spices.
It isn't easy to believe that these Crispy Minced Mutton Spring Rolls aren't vegetarian, but they are. The main ingredient in the spring rolls is mutton that has been marinated in Indian spices. It's a delicious combination of crunchy surface and delicate within. In this recipe, we will teach you how to make your spring roll wrapper with a few simple ingredients, and you can even buy the wrappers from the market, which are easily available. While practice is required, repetition leads to perfection. Making thin crepes is essential for spring roll wrapping. Wrappers that are too thick or dry may shatter, so it's important to make the perfect wrappers to enjoy the crispiest spring rolls.
These rolls are great for entertaining at home because of their freshness and delicious flavour. When you want something crunchy on the outside but delicate on the inside, try this recipe, and to make this recipe, order the fresh Mutton Mince (Keema) from Giggsmeat.com, order mutton Keema from Giggsmeat, and get it delivered to your doorstep within just 2-3 hours of ordering and Giggsmeat.com make sure to provide the finest quality of non-vegetarian products.
History of Spring Rolls
Spring rolls are a pancake stuffed with seasonal veggies. Slightly different from the winter's preserved cuisine.
In Chinese cuisine, spring rolls are savoury cabbage and other vegetable rolls, and their name comes from the fact that they are most commonly consumed during the Spring Festival. In India, people love vegetable momos, Chicken Momos and the mutton mince momos, and these momos are very much in demand.
A popular appetizer choice for parties and occasions, fried spring rolls are popular due to their size and freshness. Before they are deep-fried, they are entirely wrapped in the batter.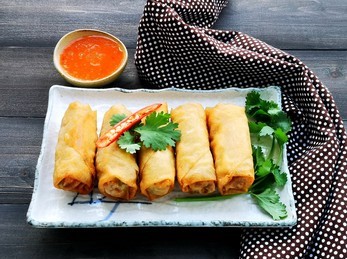 Spring rolls are named after the Chinese spring festival. Spring rolls are easy to make for a party buffet or Chinese New Year and are thought to bring good fortune and prosperity since the roll is the form and colour of a gold bar. One can make a variety of fillings when making spring rolls at home and try several fillings of different ingredients such as ground meat, mixed vegetables, and noodles. Red pepper, celery, and green beans are all great options for vegetables. With a simple rice wine vinegar and sesame oil dipping sauce, these crispy delicacies are tempting.
How to Make Minced Mutton Spring Roll?
This recipe for handmade mutton spring rolls is easy to make and tastes very delicious and has a lot of flavours. This appetizer will wow your dinner guests and family, and it is one of the perfect party snacks for all parties and people of all ages. They make a great tea-time snack or party starter with green chutney and pudina onion kachumber salad, and enjoy it with your friends. Let's get started with the ingredients we need to make this super delicious recipe, followed by its recipe.
Check out these Spring Roll Recipes for new party appetizer ideas:
Ingredients
Finely chopped onion, finely chopped garlic, finely chopped ginger, finely chopped green chillies, ground turmeric, red chilli powder, coriander powder, cumin powder, garam masala spice powder, salt to taste, finely chopped mint leaves
It is necessary to use refined flour or maida, cornstarch, water, and salt to taste to make the wrappers.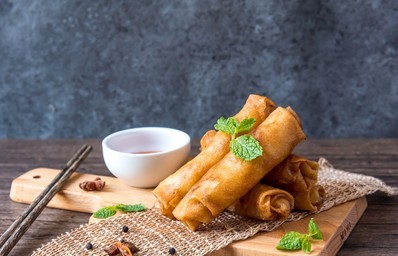 Making Spring Rolls with Minced Mutton: A Step-by-Step Guide
Step 1: Mutton mince or Keema is used to prepare Minced Mutton or Keema Spring Rolls. You can buy freshly minced mutton or Keema from Giggsmeat.com. It should be roughly ground after a few pulses through the processor.
Step 2: Preparation of the spring roll filling is the next step in the process. Pour the necessary amount of oil into a heavy-bottomed saucepan. Cook the ginger, garlic, and green chillies in a large skillet over medium heat until fragrant. Approximately 10 minutes, or until the onions are soft and translucent, is the time it takes to prepare them.
Step 3: After around 2 minutes of softening the onions, the mutton should have taken on a darker colour of brown. Season with a pinch of salt and pepper once the spices have been absorbed completely. It is critical to continue cooking until all ingredients are completely integrated. If necessary, cook it until it is tender and the liquid has gone. This task should take no more than 8 to 10 minutes.
Step 4: Take a rubber spatula that can be used to remove and discard any browned bits from the pan. Set the bowl aside after completely mixing. The filling for the spring rolls is now ready for you to prepare. A thin, silky batter will form when all of the ingredients for the Spring Roll Wrappers are stirred together in a mixing bowl until thoroughly combined. Remove any lumps by whipping the mixture.
Step 5- Preparing the skillet and now Grease a nonstick skillet with oil and heat it over medium heat. Crepes can be made by putting a ladle of batter into a hot pan and immediately tilting the pan over medium-high heat after the pan has been heated. Stir frequently until the sides of the pan start to pull away from one another at medium heat. Cook for a few seconds on the opposite side, or until the sides of the wrapper begin to separate from the rest of the wrapper before flipping it back over. It will harden and dry out if you heat the wrapper for too long.
Step 6: Repeat this process with the remaining batter to form additional wraps. This will be postponed for the time being, at least. After that, in a mixing bowl, combine all-purpose flour with a small amount of water until a thick paste is formed. After the minced mutton spring rolls have been rolled out, this will seal the edges of the spring rolls.
Step 7: It's critical to lay the spring roll wrappers out flat before rolling them into a tube shape to prevent them from sticking together. The flour paste should be applied in a thin, equal layer around the perimeter of the wrapper. Place a small amount of minced mutton filling in the corner or edge of the wrapper. This is the stage at which the dough should be tightly folded around the filling. Before tucking the border away, apply a thin coating of additional paste to the edges of the border.
Step 8: To prepare additional Spring Rolls with Minced Mutton, repeat the process described in Steps 1 through 8. By deep-frying them for around one minute at a time, you may create spring rolls from minced mutton. By carefully removing the Spring Rolls from their skillet and laying them on a piece of oil-absorbing paper, you can help to eliminate any excess oil. At this point, the food and beverages are ready to be devoured by everyone.
Alternatively, minced mutton spring rolls with green chutney and Pudina Pyaz Kachumber Salad can be served as a snack or as an appetizer at a party.
By ordering Mutton Mince from giggsmeat.com and preparing this unique recipe, you can have the juiciest and freshest mutton mince or Keema spring rolls available on the market.