Fried fish is delicious comfort food that can be enjoyed at any time of year. If you are not used to working with hot oil in the kitchen, the prospect of making it at home can be daunting for some people. Prepare restaurant-quality fried fish in the comfort of your own home for a fraction of the cost and effort of going out to a crowded restaurant.
Follow these instructions to make wonderfully crisp and golden deep-fried or pan-fried fish every single time. Whether made with traditional cod and chips or with a spicy kick, Fiery Rava fries are the perfect comfort food. Even better when eaten right away after frying in the pan because the crispiness and juiciness are kept during the cooking process. However, you should not be worried if the notion of making fried fish at home makes you feel apprehensive. Allow us to give you a few pointers so that you can get started on making some delicious fish fries right now!
The well-known deep-fried "Fish and Chips" dish is an absolute must-have when it comes to cooking. This delightful and simple supper may be made with any fish you have on hand, whether it's walleye, pike, or perch. Using this Hunt Fish Recipe video, Josh McFaddin demonstrates how to deep-fry fish and chips to perfection while teaching viewers some fundamental deep-frying methods and tactics.
You may order the freshest raw fish online from giggsmeat.com and cook this delightful feast to impress your visitors. We can ensure that Giggsmeat raw fish is always at its most delicious and freshest by avoiding freezing it before serving it. With a single click of the mouse, you may have your meal delivered in 90 minutes or less from the time you place your order. Pick up the phone and place your order; you won't even have to leave your house to complete your purchase.
Specifically, in the Case of Fried Fish
Fried fish is the ultimate appetizer, much to the delight of seafood fans all around the world. While some are cautious about taking too much Oil, we limit ourselves to appetizers such as fish salad or larger entrees like fish curry to avoid consuming too much nutrient-dense fat. Please do not be alarmed! By following the instructions in this oven fish fry recipe, you will ause almost no oil to prepare the meal.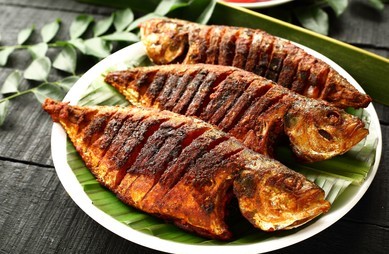 Ingredients to Cook the Perfect Fried Fish
To cook the perfect and delicious fried fish, make sure to take the freshest ingredients and high-quality ingredients. The ingredients we need are the freshest raw fish from Giggsmeat, garlic paste, lemon juice, red chili powder, ground black pepper powder, turmeric powder, Oil for frying, ginger paste, chili paste, salt, Milk, breadcrumbs, eggs and Maida.
How to make wonderful fried fish that is tailored to your exact preferences.
Steps to make Perfect Fried Fish
Step 1: Selecting and preparing your fish is essential.
Fried fish with a mild flavor, such as whitefish and shellfish, are ideal for deep-frying. Using a fish slicer, cut the fish into 32-inch pieces after being separated into 12-inch-thick fillets. Before preparing the dish, thoroughly rinse the fish in cold water. After that, dry the dish with a paper towel with care to avoid scratching it.
Step 2: Prepare the Oil for frying the fish.
It is necessary to bring the oil to a boil in the second stage. A big saucepan or deep-fat fryer should be filled halfway with vegetable oil. It is best to have a depth of 2 inches. Using medium-high heat, bring the temperature of the water to 375 degrees Fahrenheit. Preheat the oven to 300 degrees Fahrenheit before you begin baking.
Step 3- Preparation of the batter.
Make a batter if you want a flaky, buttery crust for your fish. Breadcrumbs are the best ingredient to use in a fish batter for frying. In a small dish, whisk together one egg and half a cup of milk until well combined.
Step 4- Dry Coating
In a second shallow dish, combine 1/3 cup flour and 1 teaspoon salt and set aside for Coating after seasoning it. Place 1 cup of breadcrumbs in a plastic bag and store in an airtight container for later use.
Step 4- Coat the Fish Chunks
Apply the Coating to the fish. The best method is to use flour to coat the seafood and then dipping it in an egg mixture to prepare it. Inspect the egg mixture to ensure that all surfaces have been completely covered and no drippings visible. After that, insert each piece into the breadcrumbs bag one at a time until the bag is full. Remove the pieces from the bag after shaking them until they are completely covered.
Step 5- Deep fry the fish until Golden
Fry the fish in four-person batches to prevent it from sticking to the pan. Toss the seafood in a hot pan for 3–4 minutes, or until it has a deep golden brown color on the outside. When a chunk of beef is poked with a fork, it should easily fall apart into bite-sized pieces. When you cook something for too long, the texture becomes harsh and chewy. In this dish, you can use any solid fish of your choice in place of the pomfret if you prefer. Make sure you don't cook the fish.
Step 6: Serve Steaming hot.
Place each fried item on a tray lined with paper towels to catch any excess oil. Maintain a prepared oven on a baking sheet until all of the seafood has been finished cooking in the oven. If you wish, you may also serve the fish with tartar sauce or lemon slices on the side.
Wrapping Up!
Giggsmeat.com offers the finest raw fish available online, allowing you to indulge in this gourmet meal. When you serve Deep Fried Fish to your friends and family, please make a point of impressing them with the flavors and quality of the fish you've chosen. Using Giggsmeat's online store, you can order your meat and have it delivered right to your door.