Any dish that includes chicken wings will, without a doubt, satisfy your cravings and Buffalo Chicken Wings is one of the favourites of all non-vegetarians. If you're short on protein or have a large group of people to feed, this is a fantastic substitute. If you plan a party at home with your friends and family, then buffalo wings are a wonderful choice. Buffalo wings can be prepared in a variety of ways and are quite delicious. This is a must-try dish for those looking for something crispy on the exterior and hot, steaming liquids on the inside.
To prepare these finger-licking Buffalo Chicken wings, order freshest raw Chicken Wings from giggsmeat.com online and prepare this amazing recipe and impress your guests. We make sure Giggsmeat delivers the freshest raw chicken wings, and since we don't store them in the freezer, they're always at their freshest and most flavorful. If you order it now, it will be delivered to your home within 90 minutes of placing your order, and without any hassle and extra effort, all you need to do is pick up your phone and order now, and Giggs Meat will never disappoint you.
About Buffalo Chicken Wings
Buffalo Chicken wings are one of the most loved and most demanded chicken snacks everywhere and globally, and these are delicious pieces of meat. And everyone enjoys this recipe, and they are one of the simple recipes, and we are going to share the recipe of the buffalo wings, and they can be made at home with a lot of ease and without any extra efforts with the help of the best raw chicken wings from the Giggs Meat online store.
Buffalo Chicken Wings are made by frying or baking the chicken wings and then tossing them in a sauce. A sauce made of cayenne pepper, spicy sauce, vinegar, and melted butter is used for deep-frying the chicken wings, which are then served after they have been dunked or coated in the sauce.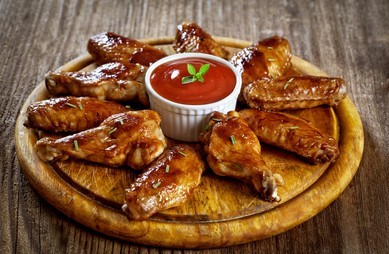 Various types of chicken wings can be made easily at home, and you can serve the chicken in several flavours. Depending on the sauce that is used, buffalo wings can be made in various ways. Spicy and acidic in every bite, these finger-pouring morsels are coated in hot sauce and dripping with melted cheese.
The buffalo wings are cooked from the raw chicken wings from Giggs Meat will be delicious, tender and moist and will taste amazing. The types of Buffalo chicken wings that can be cooked at home are Hot and Spicy Chicken Wings, Roasted Chicken Wings Tossed in the sauce, Teriyaki Chicken Wings, and, last but not least, the Peri-Peri Chicken Wings.
Let's now start with the recipe of our Indian style buffalo chicken Wings, and first, let's start with the ingredients we need to prepare this delicious recipe.
Ingredients to prepare Buffalo Chicken Wings:
To make buffalo wings, you require simple ingredients, and these ingredients are readily available at home. And the ingredients are 1/2 cup Maida or All-purpose Flour, 2 tbsp paprika powder, 1/4 cup cayenne pepper, some sugar and salt in equal quantities, about 1tbsp each, 15 Chicken Wings, Deep-frying oil is a cooking oil that is used for deep-frying, butter, Spicy Sauce, powdered black pepper, garlic, ginger, green chillies.
Recipe to prepare Buffalo Chicken Wings:
Step 1: Marinate the Chicken Wings
In a small mixing bowl, whisk the flour, cayenne pepper, and salt until well combined.
Place the chicken wings in a nonporous glass bowl and set them aside. Toss the wings in the flour mixture and spread them out evenly with a fork to coat them well.
Refrigerate the bowl for 60-90 minutes after covering it with plastic wrap.
Mix the chicken wings in a large mixing basin and coat equally with the flour mixture. Before frying, keep it aside and bring it back to room temperature.
Step 2: Dry Coat the Chicken Wings
Heat the oil in a heavy-bottomed kadai or saucepan until it reaches 190 degrees Celsius.
Using only a small amount of oil, fully coat the wings with some dry flour. In a small saucepan, heat the butter, pepper sauce, black pepper, and garlic powder until the butter is melted.
Maintaining constant stirring, heat the mixture until the butter has melted and the ingredients are entirely combined.
Remove the pot from the heat and set it aside for a few minutes.
Step 3: Deep Fry the Marinated Chicken Wings
Cook the chicken wings in a skillet until golden brown, then toss them with the sauce and serve immediately.
Fry, the coated chicken wings for 10 to 15 minutes in heated oil or until the outside is golden brown.
Add pepper sauce mixture to a serving platter right away after transferring wings to it. Serve. Cook the marinated wings in heated oil for 10 to 15 minutes, flipping halfway through until they are crispy.
Fry them until they are golden brown on both sides, about 3 to 4 minutes per side until they are cooked through.
Please place it in a safe place until you're ready to serve it. After you've transferred the wings to a serving bowl, turn off the heat.
Serve immediately once the heat has been turned off.
After you've incorporated all of the other ingredients, add the spicy sauce and combine thoroughly.
Step 4: Serve Piping hot with the choice of Dips
Chicken wings go especially well with a wide array of dipping sauces and dressings.
Like peanut butter and jelly, dips and wings are a match made in heaven, just as they are with peanut butter and jelly.
While enhancing flavour, they can also transform plain old chicken wings into a delectable gourmet entrée by simply dipping them in a sauce of choice.
Here are a few simple sauces to go with your fried chicken that you can make in minutes.
Below we have given certain options to serve these amazing hot Buffalo chicken Wings with these amazing dips:
a) Garlic Mayonnaise Dip – This recipe is made with just three ingredients: mayonnaise, ketchup, and garlic powder. It is simple yet delicious.
b) Sour Cream – It is best to serve the sour cream dip refrigerated to attain the best effects. Served with any wing style, this sour cream dip with minced parsley, lemon juice, and garlic powder is an absolute must-have.
c) Schezwan Sauce: It would make your Buffalo chicken wings even more delicious and tempting to heat and an amazing party starter.
Enjoy Buffalo Chicken Wings with your friends and family and order the freshest Chicken Wings from giggsmeat.com online and enjoy this gourmet recipe and impress your guest with the flavours and the quality of the chicken. Order Now raw fresh Chicken from Giggs Meat and get hassle-free doorstep delivery.