Lamb Biryani is a perfect dish that comes to everyone's mind when it's a festival or any occasion or a gathering at home. Lamb Biryani, of course, is a must-have in your party menu!
Hot, spicy mutton biryani with raita, Mirchi Salan, and sizzling kebabs are so tempting to resist that you can stop eating them. This article is totally about Lamb biryani and the tips to make authentic Biryani at home with all the necessary steps.
Let's get started and have a look at some fantastic tips that will make your Biryani perfect and the dish that your friends and family would relish for a lifetime. Let's get started with the essential things one should keep in mind while cooking Lamb Biryani.
Tips To Cook A Flavourful & Most authentic Lamb Biryani
Tip 1
When cooking Biryani, always keep in mind to take a broad, thick-bottomed pan to prevent scorching and sticking. Biryani should always be cooked at medium-low heat, and it is recommended to avoid burning, and slow cooking will release the flavours nicely. To get the best flavours, you can use a brass or a copper utensil; it would give your Biryani distinct and the perfect flavours.
Tip 2
Always take equal portions of rice and lamb meat. For instance, if you take 750 gms of Lamb pieces then take 750 gms of rice, it will give you a perfect ratio and helps you to make your perfect Biryani.
Buy Fresh Lamb Online for your lamb or goat biryani is crucial to achieving the desired results. At Giggsmeat.com, you can get the freshest raw lamb curry cut, and we assure you if you make your Biryani from this raw lamb, you will always order lamb online from Giggsmeat online lamb shop near me. The Lamb Biryani's rice, the authentic flavour will get more enhanced by chunks of bone-in meat.
Tip 3-
Marination is one of the most important steps when you are cooking Biryani. We would suggest you marinate the mutton at least 2-3 days before you cook Biryani. Not less than 24 hours can't get the perfect flavours. Do not add salt during the marinating process because it would release its juices, and the lamb chunks would dehydrate and result in a dry biryani. You can add salt while cooking the Biryani.
Tip 4-
The best choice is basmati rice or biryani rice for lamb biryani, and long grains always smell good and taste even better. It gives the dish a whole new flavour when cooked with basmati rice. When you are cooking the rice, make sure you flavour the rice with some dry whole spices.
Always add the rice to boiling water to prevent breaking the rice, and stirring the rice breaks up the grains and detracts from the appearance of the Biryani, so avoid that. Biryani is also influenced by the aroma of basmati rice, which is a vital component of the dish. Granules with long, unbroken lengths appear more appealing. As there is a saying, "your eyes eat first".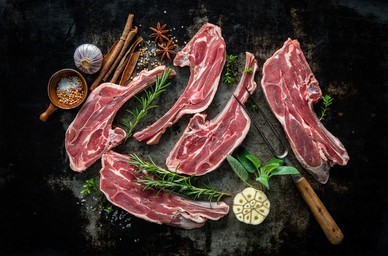 Tip 5-
While cooking the Lamb Biryani, the most crucial step is layering the Biryani and finally putting it on dum. All components must be prepared separately. When it comes to Biryani, layering is the key to achieving maximum flavour and richness in the dish.
The fresh raw lamb near me should be cooked before layering. In the bottom of the pan, spread some rice, then some cooked lamb, then some rice again, and as a final step, place cooked meat on top of the remaining rice, and finish with the remaining rice.
Tip 6-
Garnish the dish with the crispy fried onions and add some desi ghee, kewra water, and saffron water on the topmost layer of the Biryani before you start cooking and also garnish them with loads of coriander and mint and cook the Biryani on a medium-low flame.
Tip 7-
A low-heat Indian cooking method known as dum involves cooking food at a low temperature. Seal the pan with a dough seal to stay intact in the Biryani since cooking gives food a richer flavour. Add no additional water during this phase. Rice absorbs moisture from the marinade and also gets a lot of flavours. Rice is half done when you layer the rice. The steam from the lamb will cook the rice.
Cook for 40 mins on dum on low heat. To prevent burning, you can place a Tawa and then place your biryani pot on top of this. A barrier will be created between the flame and your pot, and this slow cooking will release unique flavour and make the most authentic Biryani.
After these fantastic tips to make the super delicious Biryani, now Let's now dive into this delightful recipe keeping these tips in mind. This authentic lamb biryani will take your gatherings on another level. Order freshest raw lamb curry cut from giggsmeat.com and get it delivered to your doorstep within 2-3 hours of your order and keep making these lovely dishes.
Ingredients for Lamb Biryani Recipe
For Marinating the Lamb
1 kg Lamb curry cut Pieces
1 cup Yoghurt
Mustard Oil
Turmeric
Salt to taste
Coriander Powder
Red chilli powder
Ginger paste
Garlic paste
Green chilli paste
Some fried onions
Some green chillies.
For Biryani
3 cups Basmati rice parboiled and cooked 1/3rd
Cinnamon stick
Milk
Cumin
Red chilli powder
Garam masala powder
Onions thinly sliced
Green cardamom
Dashes Saffron soaked in warm milk
Bay leaf
½ Cup Ghee
Coriander leaves
Mint leaves
Kewra water.
Mutton Biryani Recipe
Step 1
A delicious Biryani begins with a marination paste. Take a big bowl and add some Garlic, ginger, green chilli paste to it along with some curd and then red chilli powder and turmeric powder and then add some green chillies, mustard oil, fried onions, and some desi ghee. Wash the lamb curry cuts thoroughly and drain the additional water. Now add fresh raw lamb pieces to the marinade and rub the marination properly and keep it aside in the refrigerator for at least 24 hours to 48 hours for great results.
Step 2
Slice up the onions and add them to a hot wok or frying pan and Onions should be deep-fried until golden brown and crispy at a medium to high temperature, then take them out and spread them out evenly on a kitchen tissue.
Step 3
Now take a heavy bottom pan, put some oil, and add whole spices and onion and sauté until the onion is translucent. Ginger-garlic paste, green chillies, salt, and Yoghurt should be combined in a mixing bowl and make good gravy; you must cook it until the oil separates. Then add the marinated meat, and the online fresh raw lamb should be cooked until it is soft. Once the oil separates, add the garam masala and some meat masala and remove it once the lamb is cooked.
Step 4
Now let's layer the Biryani in the pan you are going to cook it on dum. First layer some parboiled rice, then a generous layer of cooked lamb, then rice again, and then some meat and the final layer of rice. Top the last layer of rice with fried onions, coriander, mint leaves, desi ghee, saffron milk, kewra water and seal the lid with dough and let it dum for 40 minutes on low heat and turn of the heat after that and let it rest for a while.
Step 5
Serve the Biryani hot and fresh with some Mirchi Salan, Raita, mint chutney, and some onions, and enjoy the delicious Biryani with your friend and family.
Order now!! the freshest raw lamb from Giggsmeat.com online and enjoy the delicious recipes and keep sharing your experiences with us and more and more recipes you make after ordering fresh raw lamb from Giggsmeat.com.