Whether served as an appetizer or side dish, Chilli Fish is a delicious meal that pairs nicely with various entrees. This crispy, savoury, and substantial snack will tempt your taste buds. The next time you have a dinner party, give this appetizer or side dish to your guests, and they will be amazed!
Many people enjoy it because of the spiciness and tanginess it has to offer. It doesn't matter if your supper is just plain dal rice; this appetizer will take it to a whole new level of flavour and sophistication. As a result of its hot and appealing flavours, chilli fish is an excellent appetizer. Using the recipe we've provided, you'll be able to make your family and friends lick their fingers.
Prepare this dish by starting with the freshest Fish you can locate and marinating it for some time with some delicious spices. Begin by placing an order for fresh Fish from Giggsmeat and Giggsmeat. Ensure to provide the Freshest raw Fish at your doorstep and provide the Hassel free delivery, and you will get the order in within 2-3 hours once the order is placed.
About Chilli Fish
This Fish has a peppery flavour, as implied by its name. Using saltwater fish in your cooking is a fantastic option because it enhances the flavour of your cuisine by bringing out the spicy flavours of the other ingredients in your dish.
The combination of chilli fish and Double Dotted Queen Fish or Salmon or Bassa is a delicious alternative to the traditional method.
These boneless slices, which have been expertly sliced, are the best appetizer and one of the best Chinese dishes. By using vegetables in the cooking of chilli fish, it is possible to make it more nutritious. The vegetables you choose should not be too aggressive and should not dominate the flavour of your Fish when it comes to preparing your dish with them.
Include vegetables such as Onion, broccoli, peppers, and cabbage to help balance out the dish's flavour. In addition, ginger and garlic can be added for flavour, and they may be added for good measure to complete the dish.
The flavour of chilli fish can be enhanced with a garnish of a sprinkle of coarsely chopped coriander or sesame seeds on top Sprinkle lime juice over the meal just before serving to make it look more colourful and appealing to guests. If your appetizer is a touch on the dry side, a creamy mint dip might be served alongside it. This is a terrific match, in my opinion.
Make sure you buy the Freshest Fish from Giggsmeat and make the perfect and most delicious Chilli Fish recipe. This recipe would be succulent from the inside and crispy from the outside, and you will enjoy this recipe of the Fish is fresh and flavourful.
Ingredients to Make Chilli Fish at Home
Choice of Fish 250gm, sour cream, baking powder, ground cornmeal soy sauce, black pepper, salt, olive oil, Celery roughly diced, Extra Virgin Olive Oil.
For the sauce, combine all of the ingredients in a large mixing bowl until well combined.
Freshly grated ginger, minced garlic, finely chopped Green Chilli, 5 tablespoons of tomato sauce, 5 tbsp of oil, Soy sauce, chili, Sauce, vinegar, Schezwan sauce, Ajinomoto, green onions, and Cornflour, and some water to make the slurry.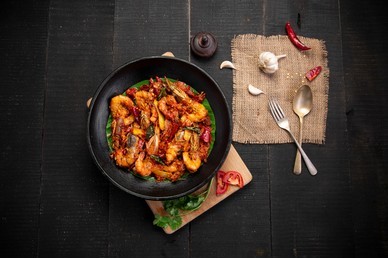 Chilli Fish can be prepared in an essentially limitless variety of ways.
Step 1- Prepare the Fish
Place the sliced freshest raw sea fish in a large mixing bowl and cut into cubes using a sharp knife. Season the fish with lemon juice, salt, and pepper. Allow ten to fifteen minutes for marinating and keep it aside so that it releases extra water.
Step 2- Make the Coating
In a separate dish of refined flour, add salt, pepper powder, and baking soda. Gradually add water and mix thoroughly to create a smooth and thick batter to coat the Fish.
Step 3- Deep-Fry the Fish
In a saucepan, heat the oil. Fish cubes are coated with batter and fried until golden brown in a deep fryer, make sure you don't over fry the Fish, but it should be soft and juicy from the inside and golden and crispy from the outside, and now take out the Fish using absorbent paper, drain the extra oil.
Step 4- Start making the Sauce.
Combine red chillies and a small amount of water in a blender until homogeneous puree forms. In a nonstick skillet over medium heat, cook the garlic and ginger until fragrant with a half-teaspoon of oil.
Thoroughly incorporate the soy sauce, vinegar, green chilli sauce, Ajinomoto, and red chilli paste into the mixture. Now ads some water and in a different bowl make a slurry of Cornflour and water, add it in the wok, and mix it properly until the Sauce thickens.
Step 5- Add Fish to the Sauce
Salt and pepper powder should be evenly distributed throughout the Fish. Ensure that the fried Fish is evenly distributed. Stir in the remaining lemon juice and then add the fried fish chunks to the Sauce and let it mix properly.
Step 6- Garnish and Serve it Hot.
This concludes the procedure, and Chilli fish is ready to serve. Pour it into a serving bowl, and at this time, sprouting onion greens may be added. Serve immediately with sesame seeds and spring onion greens as garnish.
Wrapping Up!
Hope you Liked our recipe and made this recipe for your friends and family, and don't forget to order the freshest Fish from Giggsmeat.com and get it delivered at your doorstep and enjoy the quickest delivery and the best quality fish.