There are two reasons why Online Rohu Fish is used a lot in cooking fish dishes, especially by the Bengalis. Today this article speaks about the same. We will be sharing some exciting facts about Fresh online Rohu fish. Rohu Fish has delicate flavors and is enriched with high levels of nutrition. It's a rather popular fish and, unsurprisingly, gets sold out relatively fast. Buying Fresh Rohu Fish Online through Giggsmeat.com is the easiest way of getting hold of this delicious fish!
We will be sharing the most famous Rui Macher Jhol or Bengali Style Rohu Fish Home Made Recipe in this Blog. Before starting with this Authentic Rohu Fish Recipe, let's check out some facts about the Fresh Rohu Fish.
About Rohu Fish
In northern and central India, the Fresh Fish near me and the fish's name is Rui or Roho Labeo. It is a species of fish of the carp family and is found in the rivers in South Asia. It has dark upper body scales, a golden brown belly, and brilliant red fins. It has a smooth, non-oily texture and pleasant taste and has a non-fishy smell and flavor.
That is why Online Rohu Fish near me is very famous in Japan. In addition, The Online Rui fish is enriched with a lot of nutrients such as proteins and Omega-3-fatty acids, vitamins A, B, and C; and this fish is lean meat and is also free from unhealthy fats that is why it is a very healthy fish.
This fish comes from the clean Hooghly Rivers in West Bengal, ensuring that it is authentically Bengali in every way. Small local fishing boats with size, color, and texture standards are used to catch fish daily.
Giggsmeat order Online Fish reaches you in no time with the best quality Rohu fish and delivers that online. The fish are immediately cooled after they are caught at the lowest temperature, and this eliminates the need to freeze and preserve the fish's natural taste and texture.
Bengalis use rohu in everything from spicy curries to a delicious fish fry. Rui Kaila and rice are the ultimate Bengali delight and are loved by the Bengalis.
Let's know about the ways of buying Online Rohu Fish near me and why buying this Rohu fish online from Giggsmeat.com Online.
a) Giggsmeat makes sure that it maintains the freshness of the fish and delivers the freshest rohu fish at your doorstep, and uses no preservatives to keep the fish fresh.
b) You can skip going to the local and chaotic fish market and get the freshest rohu fish available at your home in 2-3 hours of your order. Your time and energy will be saved, and your fish is delivered whenever you want it.
c) You can choose a variety of cuts of the Rohu Fish when ordering from Giggsmeat.com Online near me, and with our online meat shop, you can select your preferred cut style.
d) We take complete care of the hygiene and cleanliness of our products and make sure that for all online orders, we deliver the products with hygiene. We use the proper packing boxes to pack the Meat products and deliver them fresh, and not only that, but we also have a separate quality team to take care of the hygiene standards.
Bengali Macher Jhol Recipe
The Bengali meal Macher Jhol combines fish and curry and is one of the most loved recipes of Bengalis. In most kitchens, simple items can be used to prepare this dish, and this is an easy dish with some simple ingredients that can be found in your kitchen easily. You can prepare it in a short amount of time on a casual evening when you don't feel like cooking elaborately or after a long day at the office. To find out how to make this quick and straightforward dinner, continue reading this article.
Ingredients to make Macher Jhol
Let's get started with some ingredients that we need to make this Macher Jhol Recipe. We need
500 Gms of Rohu fish cut into steak
Mustard Oil
Kalonji
Slit Green Chillies
Turmeric Powder
Red chili powder
Onion Finely Chopped
Ginger Paste
Garlic Paste
Tomato Finely Chopped
Cumin Powder
Coriander Powder
Lemon Juice
Water
Salt To Taste
Recipe of Bengali Macher Jhol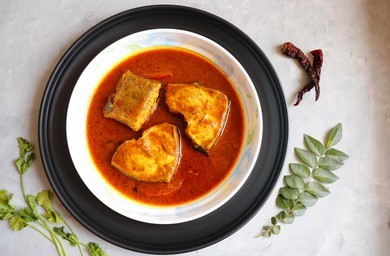 a) Wash and Marinate the Fish
The first step is to wash the fish thoroughly and then marinate the fish with salt and two teaspoons of turmeric powder before cooking the dish. Keep this marinated fish aside for at least 15 minutes.
b) Shallow Fry the Fish
Now, take a walk and as soon as the pan or wok is hot enough, add some mustard oil to it and carefully place the Rohu Fish steaks in it. Start shallow frying the fish and make sure both sides of the fish should be golden brown, and it would just take a few minutes. Remove these fish steaks from the pan once they are nicely done.
c) Make the Gravy
To make the curry take a pan and add some mustard oil to it and as the oil gets hot, add some kalonji seeds and chilies, add them to the same oil in which you have shallow-fried the fish pieces. Then add some ginger-garlic paste and chopped onion and saute them until they become translucent and start changing their color.
Now add the powdered spices and also add salt to taste and then some water to the masala, cook it for a few more minutes and then add tomato puree to it and cook until the oil starts oozing out and now add some water again to make a thick gravy and let it a bowl.
When you see oil start coming on the top, add fried fish steaks to the pot and bring to a gentle boil. Allow it to boil for a few minutes, and then add the lemon juice after removing the pan from the heat.
d) Serve it Hot
Serve immediately with a side of steamed white rice and accompany it with some green chilies and onions. Enjoy the delicious and flavourful recipe with your friends and families.
To make this exciting recipe and enjoy its health benefits, make this delicious Bengali Macher Jhol from the fresh raw Rohu fish and order for Giggsmeat.com and enjoy its distinct flavor and health benefits and gain a lot of nutrition from this fish.
Giggsmeat Online delivers the Rohu Fish fresh at your doorsteps, and with the help of some best storing techniques, the fish will stay fresh for long with some intact flavors and that too without preservatives.
Order Now!! At Giggsmeat.com to experiment with new dishes and satisfy your taste buds.