Chicken Kalmi Kabab is a popular snack or an appetizer in Indian cuisine, and it belongs to the most delicious Mughlai Cuisine. Fresh Raw Chicken near me is marinated and then cooked in tandoor/oven in skewers, and this is served with lemon wedges, onions, and coriander & mint Chutney. Several freshly ground Indian spices spice the yogurt used to marinate the chicken. The drumsticks are usually served with onions and Indian bread like Naans, Roomali Roti, and you can even have them as a snack.
About Chicken Kalmi Kabab
Chicken Kalmi Kabab is an appetizer and is one of the famous Mughlai dishes and is the most loved starter for any occasion or party. Looking at the history pages, you will find that the Kabab was part of the Indian Royals' daily menus in the early 1200 AD.
According to the famous Moroccan traveler "Ibn Battuta," the Afghan monarchs played an important role in bringing Mughlai cuisine to Indian Cuisine. Nowadays, Mughlai cuisine is a very famous cuisine not only in India but Globally.
The term Kabab is used for various grilled meat preparations in the Middle East, Muslim and American English, and India. Almost all the Kabab dishes are cooked in an open fire in the Middle East but are usually cooked in a tandoor or an oven in our Indian kitchens and restaurants. Yummy Chicken Kalmi Kabab are cooked with Online Fresh Raw Chicken Leg Pieces.
Tips to make a succulent Kalmi Kabab
Be Patient since it can make your dish perfect and is the star ingredient to cook Kalmi Kabab. In creating a delicious Chicken Kalmi Kabab recipe, patience plays an important role and brings many flavors to your dish. This dish is time-consuming and takes a lot of time and effort during its preparation. Yes, you don't have to hurry this recipe if you want to experience eternal ecstasy. The most important aspect of this meal is to allow the flavor to develop adequately.
Marinate the Fresh Raw Chicken for a longer duration because the longer the marination time, the deeper and more exquisite flavor you will get as a result. Don't fear marinating the chicken for a long time in spices and yogurt. The juiciest and tastiest Kalmi Kabab you will get when it is marinated overnight, but 3 hours are enough when you're in a hurry.
At the time of cooking, you need to brush Chicken with oil or butter. You have to keep basting the chicken when it's in tandoor or oven for a better flavor and buttery taste, and the delicious dish and butter enhances the flavor of this dish.
Be careful if you add salt in the second marination since you added salt in the first marination.
Buy the Fresh Chicken Leg Online near me from Giggsmeat.com. Giggs Meat provides Fresh Raw Chicken Online Delhi and is the Best Online Meat Shop Near me.
After the tips to make the most delicious Kalmi Kabab, let's start with the Ingredients and Recipe of the world-famous Mughlai Dish, the Kalmi Kabab. Firstly, let's look at the ingredients we need to cook this recipe and cook the delicious Kalmi Kabab with the ingredients available to us at home.
Ingredients to cook Chicken Kalmi at home
To make this delicious recipe, you need a lot of patience and time, and culinary skills since it requires a lot of effort, and if you cook it, keep in mind all the steps and give all the steps the appropriate time it requires; you can make the best recipe. The ingredients you need to cook Chicken Kalmi Kabab are 6 Fresh Raw Chicken Legs, 1/2 cup Hung Curd, Fresh cream, Finely chopped Ginger & Garlic, Lemon Juice, Turmeric Powder, 2 tbsp Cashew Paste, Cumin Powder, Garam Masala, red chili powder, black pepper powder, butter, and salt to taste.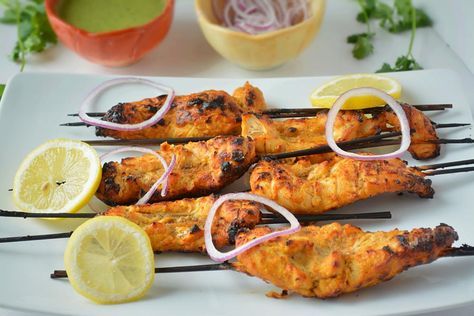 Recipe to Cook Chicken Kalmi Kabab
Step-1 First Marination
During the first marination, you need to take the clean and washed Fresh Raw Chicken legs after drying them and then prick them with a fork. Then add ginger, garlic, and green chilies paste to the pricked chicken leg pieces and add some salt to taste and mix them thoroughly. Let it marinate for 1 hour.
Step-2 Second Marination
Now we will marinate the chicken for the second time. We will take a pan and add all the dry spices to the pan like coriander seeds, cloves, green cardamom, cinnamon, black pepper, cumin seeds, and roast all these dry ingredients together on a medium-low flame till they have started releasing the aroma and their oil have changed the color and then cool these ingredients and grind them together and make a powder. Put this powder in the bowl with the other ingredients like hung curd, cashew paste, ginger-garlic paste, Chili paste, salt, pepper, red chili powder, marinated chicken pieces, and mix it well. Let the chicken marinate for 3 hours and, if possible, overnight for better results and taste in a refrigerator.
Step- 3 Cook the Chicken
To cook the chicken, first, bring it to room temperature, take a nonstick pan, heat some butter in it, and add some oil to burn. Now, place the marinated chicken on top of it and shallow-fry it on high heat until the underside is a rich golden color.
Cook until browned on the opposite side on high heat. Cook for 10-15 minutes on medium heat, and while cooking, cover the pan with the lid and cook it on low heat. Slow cooking will make it even more delicious. Alternatively, the chicken can be cooked/roasted in an oven/tandoor. You can also cook it in the oven at 160 degrees for 20 mins and make sure while cooking you are basting the chicken with butter.
Step- 4 Ready to Serve
Serve Kalmi Kabab with Pickled Onions and Dahi Pudina Chutney as a party starter. You can also serve it as a side dish with bread pieces and enjoy the dish as a starter.