Chicken Saag or Palak Chicken Curry is one of the most popular Indian main course dishes cooked from the best Fresh Raw Chicken near me, and for non-veg lovers is one of the favorites. This dish is made from fresh Palak, Chicken, and spices, also known as Saagwala Chicken. What an amazing taste and a blend of nourishment! It is a wholesome dish packed with nutrition. You can have a fantastic gluten-free lunch on your table in less than an hour. First Buy Fresh Raw Chicken Online Delhi at Giggs meat.
About Spinach Chicken Curry or Saag Chicken
Saag Murgh is a typical northern Indian dinner made from pure Spinach, Fresh Raw Chicken, spices, tomatoes, onions, ginger garlic, and fresh coriander. Since Palak naturally emanates a lot of moisture, you can expect a smooth and deliciously rich gravy.
We will share the best recipe for a Saag Chicken Recipe with no water because the humidity originates from the chicken pieces, the marinade of Yogurt, and Palak. You can make the sauce thinner by adding a little more water to it during cooking. It is how I cook the best at home. Cook until the oil starts oozing on the top and the Gravy starts looking rich and delicious.
Chicken Saagwala can be described as one of the best and most healthful delicious raw chicken recipes. Fresh Palak and a superb combination of spices enhance the flavor and taste of the Saagwala Chicken. You can make it even more delicious and healthy by using the freshest raw chicken breast. Giggs Meat offers the best online Raw Chicken or Meat Products In Delhi.
You can serve this authentic recipe with Jeera Pulao or Butter Naan or Laccha paratha for a delicious dinner or lunch or a party. Saagwala Chicken Recipe served with onion, mint sauce, and Butter Garlic Naan
When it comes to comfort food, you will enjoy it the most with rice with a spiced spinach stew and a little chicken with each meal. Rotis and chapatis would also taste good with this chicken curry.
Ingredients to Cook Yummy Palak Chicken Curry with Home Recipe
There are very simple and easily available ingredients available for Spinach, Fresh Chicken Curry, or Saag chicken. Let's have a look at the list of ingredients that would make this authentic recipe even more delicious and worth enjoying anytime with your family and friends. The ingredients required for the Delicious Palak Chicken Curry Home Recipe are Fresh Raw Chicken 500gm, 500gm Spinach, Carom Seeds, Desi Ghee, Garlic Cloves, Green Cardamom, Cinnamon Stick, Cloves, Ginger, Green chilies, finely sliced onions, Red Chilli powder, Garam masala powder, Fresh cream and finally, the most important ingredient salt to taste.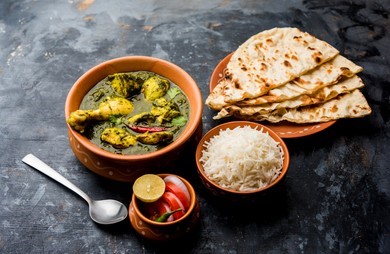 Home Recipe to Cook Flavorful Yummy Palak Chicken Curry or Saag Chicken
Let's have a look at the Best recipe for Palak Curry or Saag Chicken.
1) Wash the Chicken
Clean and wash the Fresh Raw Chicken with fresh water and chop the Chicken breast into small to medium size pieces to start preparing the Saagwala Chicken recipe, and we will also use the leg pieces of Chicken to get an amazing flavor of the recipe.
2) Marinate the Chicken
Combine all ingredients in a large bowl and marinate the Fresh Uncooked Chicken. Let the chicken sit in the marinade for at most an hour before putting it in the fridge. To marinate, add yogurt, ginger garlic paste, some spices, green chilies, red chili powder, and keep it aside.
3) Prepare the Palak or Saag
Add Spinach to the pressure cooker and some green Chilies and tablespoon water and cook until one whistle and switch off the stove after that. Run it under cold water immediately to release the pressure. Enable the cooker to refresh the Spinach. To guarantee it remains green, it is essential to open the Spinach as soon as possible. Once it is cooled, put the Spinach in a grinder and Now make a paste of that boiled Spinach and keep it aside.
4) Make the Gravy
Then add the cumin seeds, cloves, cinnamon, and green cardamom, simmer for about 10 seconds in a thick bottom saucepan, and let it splutter and release its flavors. Next, add salt to taste, ginger, garlic paste, and cook them until golden brown. Now add tomatoes to the mixture and cook until you can see the oil coming on the top of the Gravy. Now add the marinated Chicken to the Gravy.
5) Cook the Chicken until it's finished
Cook the chicken on medium flame and the covered lid. Saute it for at least 10-15 minutes and then add pureed Spinach or Saag to the Chicken and cook it in low, medium heat until the chicken is cooked and tender and starts releasing oil. In the end, drizzle fresh cream and cook for another 5 minutes.
6) Ready to serve the Saag Chicken
Taste it and adjust the salt if necessary after the Saagwala Chicken is finished. Serve Saagwala Chicken Recipe with Butter Garlic Naan. With onions and mint sauce. Garnish the Spinach chicken curry or saag chicken with fresh cream and serve it hot and steamy to your guest, and we assure you that your guest won't stop giving compliments for this delicious recipe. You can enjoy this recipe any time of the year and especially in winters.
Make this amazing and delicious dish at home and impress your friends and family with your culinary skills and make sure you Buy Online Fresh Raw Chicken for cooking this dish. Order Raw Chicken near me Delhi from Giggsmeat.com. Giggsmeat best online meat shop providing home delivery.