Butter Chicken Lasagna is one of the most famous recipes of Italian Cuisines, and it is renowned in Italy, but it is also one of the most loved recipes globally and in India. The shape of the Lasagna is commonly rectangular or in ribbon form, thicker than tagliatelle (which is a type of pasta). It is made from refined flour and eggs, and if you want to make lasagna sheets at home, you can do that with the pasta machine else, you can get them easily from any store.
Let's get started with a delicious recipe of Chicken Lasagna with you made with the best Online Fresh Raw Chicken and a few great tips that can help you cook a Lip Smacking recipe for Chicken Lasagna.
Tips to Make the Most delicious and Cheesy Chicken Lasagna
We have a few tips to help you make the most delicious and Butter layered baked chicken lasagna with the Fresh Raw Chicken Giggs Meat Near me.
There is no other dish like a steaming lasagna plate that will make you have a great evening by satisfying your taste buds. In addition, it is one of the most comforting foods in the world; Lasagna is versatile.
It is easy to prepare well in advance and shop, making it a good option for entertainment and nights when you cook a lot. It's not hard to learn how to make beautiful layers of Lasagna. However, it is time-consuming since it has many steps, but the efforts are worth making that dish at home.
Let's look at some amazing tips that can help you make the perfect pasta for your loved ones.
1) Handle the pasta
2) Don't Over Boil the Lasagna Sheets
3) Be creative with ingredients
4) Layering the Lasagna
5) A Trick to make the top layer crispy
6) Bake it with Perfection
7) Cook a generous amount of sauce
To make the Delicious Butter Chicken Lasagna make sure you first Buy Fresh Raw Chicken Online Giggs Meat and make the Yummy Butter Chicken Lasagna. Order Now Fresh Raw Chicken at Giggsmeat.com is the Best Online Fresh Raw Chicken for a home near me.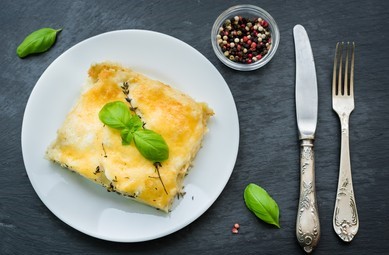 Ingredients to Cook Delicious Butter Chicken Lasagna
Chicken Lasagna is the most delicious and filling plate of food and the most loved recipe from Italian cuisine, and it might look not easy to cook but can be cooked easily at home and with a few ingredients. Let's have a look at some ingredients to make chicken lasagna. Let's begin with ingredients that we need to fill Lasagna Boneless Raw Chicken – 500 grams, Black pepper powder, Paprika powder, Lemon juice, salt as per taste. The elements that we require for Lasagna are:
15 Lasagna sheets.
2 cups of Mozzarella cheese grated and shredded.
1 cup of Parmesan cheese.
Canned Pasta Sauce Tomato and Basil.
Chopped Parsley leaves.
Ingredients to make a Bechamel sauce are 2 tablespoons of butter, 2 tablespoons of flour, 2 cups of milk, salt to taste, freshly ground pepper, and garlic.
How to make Chicken Lasagna Recipe
Step 1: Make the Bechamel sauce.
In a heavy-bottomed casserole, firstly melt the butter. Add the refined flour and saute until the paste cooks and bubbles a little, but don't allow it to be brown—about 2 minutes.
Add milk slowly and make sure no lumps are formed. Continue to mix the hot milk with the sauce. Please bring it to a boil, bring it to a boil. Add salt and pepper to taste and stir properly, reduce the heat and cook for another 2-3 minutes. Take the heat away. To cool this sauce for later use, cover the bowl with a lid so that the skin does not develop on the sauce.
Step 2 – Prepare the Chicken
Secondly, start preparing the Fresh Raw Chicken to make the Chicken Lasagna recipe. Wash and clean the chicken well. Add pepper powder, lime juice, salt, and paprika powder, mix well in a mixing bowl.
Then marinate the Chicken and cover, and let the chicken rest for about 1 to 2 hours in the refrigerator.
Step 3- Cook the Chicken
Later add olive oil into a pan. And sauté the marinated chicken pieces on medium flame until cooked well. It will approximately take about 15-20 minutes, and the Chicken will get tender and juicy and ready to layer the Lasagna.
Step 4- Preheat the Oven
Preheat the oven to 170 degrees centigrade. Grease the lasagna baking dish with butter well.
Step 5: Start layering the Lasagna.
Place a layer of cooked lasagna sheet in one layer. Add some tomato pasta sauce, Bechamel Sauce, sprinkle cheese, layer chicken pieces on top, and sprinkle some more cheese on top of the Chicken and some finely chopped parsley. Repeat the same step and keep layering until you reach the top of the pan. Top the dish with a generous amount of cheese. And make sure on each layer add an extra amount of bechamel sauce to make the dish rich and cheesy.
Step 6- Bake the Lasagna
Bake the lasagna pasta in a preheated oven for about 15 minutes or until the cheese melts and the top is slightly browned.
Let the lasagna rest for about 10 minutes, then scatter the sliced parsley leaves on top, some sliced tomatoes on top of the Lasagna. Now cut the Lasagna into squares and serve them hot and steamy.
Serve Chicken Lasagna made with the Fresh Raw Chicken on its own with some extra bechamel sauce and some extra tomato basil sauce. Serve it with some bruschetta and garlic bread and enjoy dinner with friends with a glass of wine.