Smoky Flavoured Chicken Curry is one of the healthiest types of chicken recipes and healthy, but it is also one of the most delicious and flavourful recipes. But creating and presenting a similar recipe is a bit daunting. So today, in the article, we tried the same by adding a twist to the Best Raw chicken near me by adding some smokiness in it and making it super delicious to eat. Read the complete article to learn the new recipe with all new flavors, and there is no need for some more ingredients, efforts, or time, and with almost similar ingredients, you will get a new and delicious chicken recipe. Smoked Chicken Curry brings succulent Chicken portions which can be full of flavourful spices. But it's the smokey flavor that certainly seals the deal.
To learn the best Raw Chicken Online Delhi main course recipe, read the complete article and get an amazing recipe to impress your family and guests with distinct and amazing spices and smoky flavors. To make this delicious recipe at home, Firstly, order some fresh and juicy Best Raw Chicken Curry Cut Online at Giggsmeat.com. You can buy the freshest chicken curry cut by just visiting our website and ordering the best quality meat products.
We make sure we deliver the products fresh and quick, and we can assure you that our products are free from all preservatives and chemicals. We have a wide range of options in different types of Fresh Raw Chicken products Giggs special that are Chicken Drumsticks, Chicken Biryani Cut, Chicken Curry Cut, Chicken Thigh, Chicken breasts, and many more and not only Chicken, but we also have a huge range of mutton, fish, pork, eggs, turkey, and ready to eat non-veg products. So Buy Fresh Raw Chicken Online at Giggs meat online.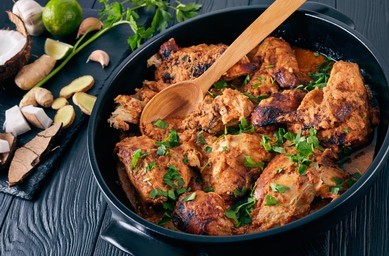 Let's male Chicken Curry with a Smokey Twist
Ingredients to make Smokey Chicken Curry
Let's get started with ingredients to make Smokey Chicken curry, and these all ingredients are easily available at home. Let's have a look at the list of ingredients. To marinate the Fresh Raw Chicken, we need 1 tbsp Ginger Garlic Paste, 1 tsp Red chili powder, 1 tsp Turmeric Powder, Salt to taste and give the chicken a smoky flavor piece of coal, 1 tbsp ghee. For preparing the curry, 4 Onion Paste, 1 cup Tomato Puree, 500 gms Chicken reduce into small cubes, 3 Green Chillies chopped, ½ tsp Turmeric Powder, ¼ tsp Chilli Powder, 1 tsp Cumin Powder, 2 tsp Coriander Powder, 1 tsp Garam masala, Salt to taste, 2 cups Water, Cooking oil, Coriander leaves chopped and 1 tbsp Lemon Juice. These are the ingredients we need to make smokey chicken curry at home. Let's look at the recipe below to cook this simple and delicious recipe with Giggs Special Online Raw Chicken near me.
Recipe to cook Smokey Chicken Curry
a) Wash the Chicken very well and drain out the extra water. Add the marination elements, including ginger-garlic paste, red chilli powder, turmeric powder, and salt. Mix very well and set the marinated Chicken apart for 30 mins.
b) Meanwhile, upload oil to a deep-bottomed pan and keep the pan on medium excessive heat. Once the oil is warm enough, put the onion paste and saute it until it's brown. Add the tomato puree once the onions are golden brown, and add some coriander powder, cumin powder, red chilli powder, garam masala powder, and salt. Now add the marinated chicken portions to the gravy and water to the pan. Stir nicely, cover the pan with the lid, cook for 30 minutes on low heat and leave the pan.
c) Once the chicken is cooked, get geared up to smoke it. First, roast a chunk of coal on low flame and permit it to get warm. Then, use tongs, take the burning hot coal into a small bowl, and pour a few oil or ghee over it. Immediately cover the bowl of the Chicken curry with a lid. Keep the bowl aside for 5 minutes and let chicken curry absorb all the flavor of the coal.
d) Once the Chicken is smoked nicely, cast off the bowl. Garnish the smoked Chicken curry with coriander leaves and squeeze a few lemon juices over it. Serve it warm with naan or steamed rice.
Tips to make a perfect Smoked Chicken Curry
Tip 1- Marinate the Chicken with yogurt for a more desirable flavor.
Tip 2- How to understand whether or not the Chicken is cooked nicely or not?
Cut the Chicken piece and notice if the juice runs clear. It is a sign of nicely cooked Chicken.
Tip 3- Can I use chicken breasts for this recipe?
Yes, you may use Chicken breasts for this recipe. But remember to adjust your cooking time as chicken breasts get cooked quickly.