Yakhni pulao is a Kashmiri dish made with various Indian spices, rice, and chicken. The flavor and aroma of this dish are very robust. This rice recipe is a great choice for supper or gathering or even very healthy and rich. Delicious Chicken Yakhni Pulao is a bed of fluffy and long rice clinging to the chicken pieces topped with caramelized onions, whole aromatic spices, and full of flavor delicious chicken bits. So Buy Fresh Raw Chicken Online for yummy Chicken Yakhni Pulao Home Recipe
About Chicken Yakhni Pulao
Indian Pulao are single-pot delicacies that are wholesome meals and take less time to cook and are very filling and can be eaten as a main course. You can serve this delicious one-pot meal at dinner parties at your home after many of the guests had eaten Indian bread with the main dishes.
The Yakhni Pulao Kashmiri Style is a chicken pulao home recipe consisting of long grain Basmati rice and flavored and Rich Raw Chicken near me Stock called Yakhni. We spiced the chicken broth to make it flavourful.
This Delicious Chicken Yakhni Pulao is cooked by making a flavourful yakhni and boiling it with a Spiced Potli. In the stock, Best Raw Chicken and rice are cooked all together in the pressure cooker.
You can serve Chicken Yakhni pulao with Burani Raita, Mint Raita, or even with Mirchi Salan. It can be a great recipe for family lunches on a Sunday afternoon or some dinner parties. It is a healthy dish for the kids. Yakhni Pulao With Chicken. You can also give carrot and onion salad with this dish.
Some amazing tips to make a perfect Chicken Yakhni Pulao
Add the rice to the boiling hot stock because if you put the rice in cold stock, it would break the rice grain, and pulao will not come out to be flavorful, and with long rice grains and the cold water would break the rice.
Always give a dum to the pulao once they are cooked. Please turn off the heat and keep it aside with the lid for at least 15 minutes to make it more flavorful.
Make sure you buy the best raw chicken for this recipe, and you can do that without going to the market now. You can order fresh and raw chicken from Giggsmeat .com from their online meat shop. They are the best online meat shop and deliver the best quality chicken at your home.
Apart from the Fresh Raw Chicken Online, other main components of this recipe are rice and other spices and make sure the spices are added in appropriate quantities and are of the best quality to assure the best flavors.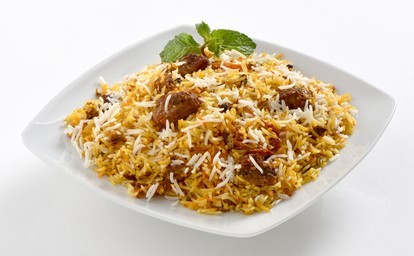 Ingredients to Cook Yummy Chicken Yakhni Pulao
Let's have a look at some ingredients that are required to cook delicious Chicken Yakhni Pulao at home Recipe in a jiffy and these ingredients are 3 cups Basmati rice, 1 kg Chicken Curry Cut, three sliced onions, Black cardamom, peppercorns, cloves, cinnamon stick, bay leaf, green cardamom, mace, nutmeg, chopped ginger, and garlic, coriander powder, Salt to taste, tomatoes, cumin seed, hung curd, red chili powder, Garam masala powder, two cardamom, fennel seeds, Desi ghee to cook the Delicious Chicken Yakhni Pulao with Home Recipe.
Home Recipe to Cook Yakhni Pulao With Chicken Recipe
Step 1- Prepare the Broth
First step is to make yakhni for the pulao, which is called a broth. We are going to use a Spice Potli to produce a Yakhni.
Take a piece of clean muslin fabric and make a Potli by adding all the dry spices in the Potli and simultaneously take a pot and add some onions, garlic, ginger, black cardamom pods, black peppers, coriander seeds, cloves, etc. all the dry spices to the pot.
Now, add the fresh raw chicken pieces to that pan and add some salt to taste and the spice pot to a saucepan over medium heat and simmer around 15 minutes. Remove that pot and put the Raw chicken pieces aside. It is the yakhni for your pulao, and it is ready.
Step 2- Prepare the Masala
First step to prepare the masala is to make a smooth paste with garlic and ginger.
In a saucepan, heat the desi ghee. Add some dry whole spices and allow the spices to sizzle and penetrate their flavors for around 30 seconds.
Now add some sliced onion and cook until golden brown and crispy and take a few crispy golden brown onions for garnishing.
Add the rest of the onions and sauté for about 3 minutes, with cumin, ginger, garlic paste, tomatoes, Salt, and all the powdered spices. After a few minutes, add yogurt, garam masala, and green cardamom to the masala.
Once the masala is cooked properly and oozing oil, add the Fresh Raw chicken to the masala and let it cook for 10 mins and let it release oil.
Step 3- Cook Yakhni Pulao
Add to your prepared yakhni in the cup this masala, as well as the soaked and drained rice, put it on, and cook the rice for about 5 minutes, or until water evaporates.
Cook the Yakhni Pulao at low heat or until the rice is done. Bring to a boil, simmer the gas, cook at medium heat, and cook until liquid is absorbed and chicken and rice are tender. The process would take approximately 20 minutes. Turn the stove off and keep it on dum for some time, and you're ready to eat.
Step 4- Serve the Yakhni Pulao
Allow rice to cool slightly before opening the deck and serving for a 15-minute dum/ rest period. Serve alongside the remaining chopped coriander, sliced onion, lime juice, salad, salad, and raita.
Garnish it with some fried crunchy onions. Serve hot and steamy and enjoy the dish with your friends and family.
At get-togethers and celebrations, share this delectable meal with your friends and family. At giggsmeat.com, you can order fresh raw chicken online and fresh raw mutton online and have it delivered to your home quickly and easily. Now is the time to order!!