Amritsari Fish is one of the most popular dishes in India, and it originated from Amritsar and is very famous in the city. Amritsari fish is a slightly battered fish with indigenous spices, ginger, paste, and besan. It's fantastic as an appetizer. The texture of Amritsari Fish is crispy, and it tastes tangy and accompanied by onions, grated radish, mint sauce, and Orly sauce. Amritsari fish is a popular fish cuisine in northern India from the Punjab city of 'Amritsar.' In Punjab, it is so famous. It can be found at any one of the leading hotels or stalls in the city. Amritsari fish are as famous as Tandoori Chicken.
About Amritsari Fish
If you're looking for an all-time favorite party, consider Amritsari fried fish with lemon wedges and chaat masala. The name of the Amritsar ish was taken from the beautiful Punjab town of Amritsar. Fried fish is popular in all local food stalls and restaurants of Amritsar. Amritsari Fish is one of the most popular street foods, and it's a great party starter.
When you think about Punjab, your mind goes straight away to the endless list of delicious delicacies the nation owes to the State. Check out state lines and find a home on many dishes and in numerous corners. Many Punjabi dishes are famous across the globe, signature dishes of Punjab such as Roti and Sarson ka Saag, Chicken Tikka, Lassi and Chole Bhature.
Then in the State's busy alleys and towns, some hidden beauties have not yet been found. For example, the Amritsari Macchi is a fried fish snack with besan batter and served with mint and coriander chutney and radish and onions. Punjab is famous for its addiction to Tandoori Chicken.
The chicken and tandoori dishes pay the most attention when it comes to Punjabi food. Punjab does not have a coastline, but it is a five-river region with the Best Fresh Raw Fish near me around Amritsar. Amritsaris enjoy fried food, and therefore a fried fish snack is so popular, as there are other favorites of the region such as pakoras and kachoris.
Traditionally, green chutney is coupled with fish. The spicy-fried delicacy must be tried in Amritsar, with fresh ground spices, like garam masala, black pepper powder, crushed coriander seeds, carom seeds, powdered red chili powder, lemon juice, sliced green chilies, and salt, in a beverage batter.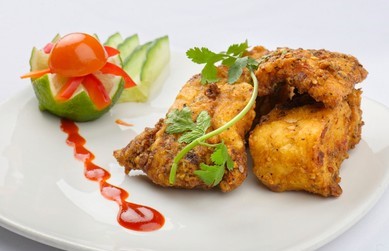 Tips to make a Perfect Amritsari Fish at home
1) Ensure while marinating the Fresh Fish Online, don't add salt in the marination since the fish is water-based, and it would start releasing a lot of water. It would not be easy to get the desired texture succulent from inside and crispy from outside.
2) Deep Fry the Fresh Raw Fish first on medium flame and to make it crispy, then deep fry on a very high heat and serve it hot and crispy with your choice of chutney and with a salad.
3) To make Amritsari fish, always Buy Online Fresh Raw Fish near me from the Best Online Fish Shop in Delhi that is Giggsmeat.com, and make sure you Order Fresh Raw Fish Online from Giggs Meat for the best Amritsari fish
Ingredients to Cook Amritsari Fish
Amritsari Fish or Fish Pakora is an excellent dish and requires only a handful of ingredients to make the dish at home. This recipe is a great appetizer and is so simple to cook and prepare at home; and if you have a party at your place, this is one of the best dishes loved by everyone and let's get started with the ingredients to make Amritsari Fish. To cook Amritsari Dish, you need 1 Kg Surmai Fish Cut into small pieces, Haldi, red chili powder, Amchur Powder, Garam Masala, Ajwain, Ginger and Garlic Paste, Green Chili paste, Kasuri Methi, Besan, Lemon Juice, black pepper, Salt to Taste.
How to make Best Amritsari Fish Fry Recipe
Step 1 – Marinate the Fish
First, y wash the fish thoroughly, keep it aside, drain the extra water from the fresh raw fish, add some salt and Haldi to the fish, mix it properly, and keep it aside for 30 minutes so that there is no smell of the fish. After that, add Ginger Garlic Paste and Green Chilli paste and let the fish marinate for an hour.
Step 2 – Make the Batter
Make a batter by combining all the ingredients such as besan, red chili powder, amchur, garam masala powder, ajwain, and Kasuri methi. Take all the ingredients in a bowl, add some water, and make a thick coating consistency. Add some lemon juice and salt to the marinated fish, mix it properly, and let it come to room temperature. Add and carefully marinate the fish pieces to the besan batter and cover all the details of fish from all the sides and dip the fish pieces generously in the batter.
Step 3- Deep Fry the Fish
Now take a deep wok and add some oil for deep frying the fish pieces. Let the oil get hot, and start frying the fish pieces and batches and fry them until they are crispy and golden in color. Take out the fish pieces on a plate and sprinkle chaat masala on the top of the fried fish. Keep frying the fish until the meal is coated evenly and the fish are good. The fish is finished. This task will take approximately 5 minutes.
Step 4- Amritsari Fish is Ready to Serve
Serve Amritsari Fish Fry while it's still hot and crispy and serve them with sliced onions, lemon wedges, and mint and coriander chutney, and you can even serve it with Orly sauce and some grated radish.