Boneless chicken breast is one the healthiest part of the chicken which is full of protein and is lean meat. Along with that chicken breast has a lot of qualities and to begin with, it cooks quickly and is very easy to eat and you can emulsify any flavor to that piece of lean meat.
It's also a slim, low-fat source of protein which makes it both nutritious and delicious. In this article, we will be talking about the tips and techniques which can help to enhance the flavor of the chicken breast.
About Chicken Breast
Chicken breast is a versatile meat and can be eaten in a lot of ways and while the chicken breast is tender and can be eaten in the form of salads, burgers, fried meats, curry, a grilled dish and also in many other forms and is by no means the most comfortable way and an easy to handle meat. The Fresh Raw Chicken Online Chicken Breast is a great source of energy and protein and great for weight loss and muscle building.
Chicken breast is low in calories and high in protein, which makes it a great snack after you work out and look for build muscles. Eating Chicken breast can be more beneficial if you eat it fresh and fatty. To eat the fresh Chicken breast you can order this now from Giggsmeat.com online chicken delivery near me and enjoy the healthiest recipes made from these fresh raw chicken breasts and its freshness would make your dish even more delicious and flavourful.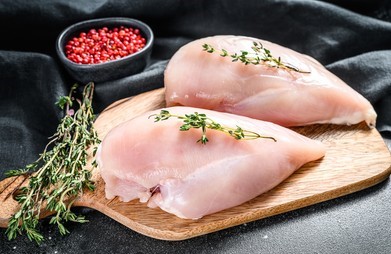 Many people think tasty food is not healthy at all and need a lot of oil and spices to make it tasty, however that is not the case. In order to make the food tasty you need just some fresh ingredients and add some flavor to them and chicken breast is one of them.
We have put together some tips to help you always cook tender and juicy boneless chicken breast and will help you with a few tips that will make the dish that you made from chicken breast more delicious and flavourful.
Let's get started with the tips to make the chicken breast delicious.
Tips to Make Delicious Chicken Breast
1) Size of the chicken Breast
The size of the chicken breast does matter and the breast should be thick enough and must be consistent in size.
Its fattiness will make it even more flavourful. If the breast is fatty from the middle and thin at the ends the thinner end cooks faster and becomes overdone and dry until the fatty portion of the breast is completely cooked, therefore it's important that the whole chicken breast is of the same size.
2) Soak the breasts in the saltwater
Soaking the breast in saltwater is called Brining and this is the most important step to cook chicken breast and most of the chefs love this step.
The solution that is used to soak the chicken is called Brine and it is a cup of water solution with 1 tablespoon per cup of salt and the chicken breast absorbs and retains salt and water while you soak the chicken in this soaking solution and leaves you with tender meat, even if you overcook it a bit it would remain juicy, tender and flavorful.
Marinate them for an hour or two in a refrigerator while bringing boneless chicken pieces before cooking, and every time you get a savory tender chicken dish that is delicious and finger-licking good.
3) Dry Rub the chicken with spices
The dry Spices are a great way to season your chicken breasts and after bringing them, let the chicken breast dry and then you start rubbing dry spices on the chicken breast and you can make this spice powder at home very easily just use the choice of your spices.
There are a few spices that can be used for making this spice powder for the chicken breast and these spices are fennel, cumin, cardamom, cinnamon, bay leaf, peppercorns, black cardamom, and there are a lot of other spices as well.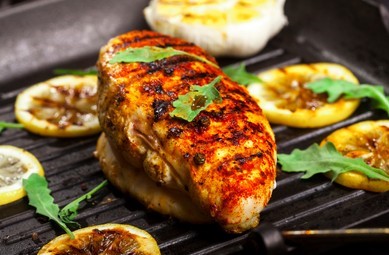 4) Marinating the Chicken Breast
It's a great way to marinate your chicken breasts a couple of hours before baking or grilling, the marination makes it juicy and if you make some cuts in the chicken breast before marinating them they would get juicy and tender and if you are looking too deep fry them coat it either with flour, beaten eggs and cornflakes and deep fry them until they are cooked and crispy and golden brown.
The meat also doesn't adhere to the pan and gives it an enjoyable crunch on the outside. Sprinkle it in a seasoned meal, breadcrumbs, or marinate, if you want to go all out.
They both help preserve and improve the moisture and flavor of the chicken breast.
5) Temperature while cooking
When chicken is cooked directly from the refrigerator, the heat from the pot dries out until inside, therefore it's essential to bring the chicken breast to room temperature first.
If you cook the chicken breast directly after taking it out from the refrigerator it leads to dry, overstretched meat. Meat is cooked more evenly at room temperature and loses fewer fluids while cooking and stays succulent.
We, therefore, recommend that you keep the chicken out for 15-20 minutes before you start cooking and only cook it when the room has reached room temperature.
6) Basting the chicken
Basting the chicken breast again and again while cooking with butter is an incredible technique to keep it moist during cooking and enhance its flavours.
Especially when cooking large portions of chicken, like full breast or thigh on high heat there are high chances that they will get dry so generously baste the chicken breasts with butter
This improves the taste of the meat and also avoids it from getting dry during the cooking.
7) Let the chicken breast rest
We all made the mistake of rushing to eat meat after it was cooked and this is the biggest mistake we all do since skipping this step will reduce the juiciness of the chicken.
Yes, it looks awesome and you want to immediately devour it, but allowing it to rest allows the liquids to get absorbed in the chicken breast pieces so to retain those pieces let it rest for a while.
Keep the chicken in the dish for approximately 5 minutes before eating and then diggin the dish.
Wrapping Up!
To make these recipes even tastier and healthier, order the raw chicken breast from Giggsmeat.com and get the freshest raw chicken online and a very high-quality raw chicken home delivery near me at your doorstep without any delay and hassle. Enjoy these delicious meals with your friends and family.