Chicken is a trendy dish among every age group & this white poultry meat is very simple looking but comes with a rich source of proteins and other health benefits. We can't deny, but today, we hardly find the pure one Fresh Raw Chicken Online, i.e. without any chemicals & added preservatives, and with the hygienic quality not just in the retail market but the online platform as well.
Due to this pandemic, everyone wants everything online chicken delivered near me so that they don't have to go to the market and avoid the spread of getting affected by the virus. But still, people don't trust that much in ordering chicken meat online due to its quality and hygiene factors, but to the saviour of this where Giggsmeat comes which brings fresh chicken home delivery near me with all the hygiene and too with the affordability and with the accurate net weight.
Bringing all these factors to your doorstep becomes more accessible because Giggsmeat has its manufacturing plant, which makes it more promising to its offering.
Order raw chicken online and get fresh chicken home delivery now!
About Gigg's Meat Raw Chicken Online
When it comes to food, everyone wants a home comforting chicken meal. Chicken recipes are always a favourite in most households, as they go with every dish of any day of the week. There are numerous dishes of Chicken available.

From the side dish to the heart of the main dish, Chicken serves as a potato for non-vegetarians. Gigg's Chicken serves you the best boneless juicy Chicken for your buffet dishes and butter chicken, tandoori chicken, and chicken rolls.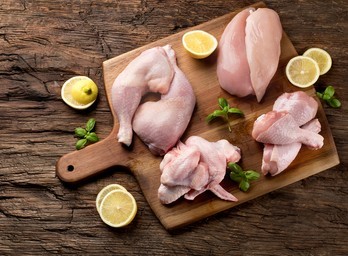 At Giggs, we strive to bring the best cuts in Chicken, as we all know these chicken items are only enjoyed when they are fresh. We at Gigg's Meat, the best Online Chicken Shop Near me, pick well pasture-raised poultry before it makes its way to your and our kitchens selected by the experts.
Giggsmeat provides the best online chicken home delivery for your curry, biryani, tandoori sticks, rolls, kebabs, and many more dishes under thoroughly sanitized and bacteria-free plants with the expert chefs for your best dining and cooking experience.
Benefits of Chicken
When it comes to non-veg food, the only first thing that crosses our mind is Chicken. As we all somewhere heard about it from our friends and family, all this is because it was presented from very ancient times and now it is very readily available in the retail market and online market.
But apart from all of this, Chicken holds health benefits as well apart from its taste.
It has proteins that can help children grow, and it has good fats, which helps in muscle building.
That's why every gym trainer told us to eat Chicken as it helps develop the broken muscles due to exercise fatigue.
At Giggsmeat.com, our experts take care of all these factors so that the Chicken won't lose its proteins and fats from production to your kitchen to your stomach.
Giggsmeat provides Fresh raw chicken home delivery near me is safe and secure packaging to maintain all the health benefits that Chicken holds.
Chicken can help with weight management as it helps reasonably reduce weight and reduces the risk of heart disease.
Chicken contains the amino acid tryptophan, which has been linked to higher levels of serotonin (the "feel-good" hormone) in our brains.
Apart from protein, Chicken is also full of calcium and phosphorus. Both of these minerals help to keep your bones strong.
Regularly eating Chicken also reduces the risk of arthritis.
Online Raw Chicken Products of Giggs Meat
1) Boneless chicken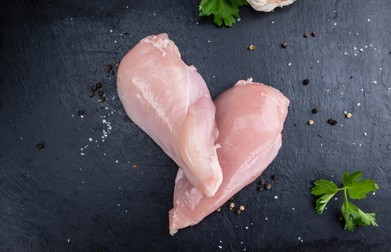 2) Chicken Breast (boneless)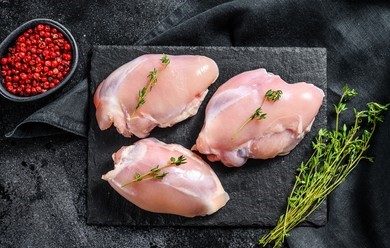 3) Chicken Drumstick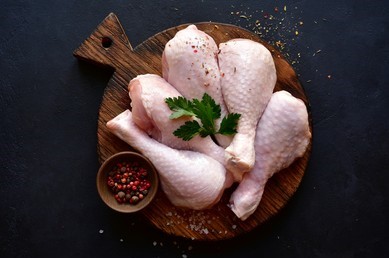 These are similar to thighs but a bit fatter and more challenging cut of meat than lean chicken breasts; they also come with a lot more flavour, and these are almost similar to cooking that of thighs and a bit hard to cook.
At giggsmeat.com, you can get these chicken delivery at their fastest, and you can efficiently serve your guests on time with Giggs particular cut chicken items.
So, order drumstick chicken meat online now!
4) Chicken Mince(keema)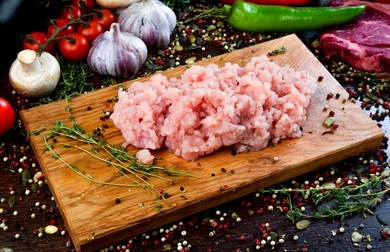 These are the ground chicken parts minced by our expert chefs, making them a perfect Keema, which makes a delicious mouth-watering chicken keema dish.
We all know how hard and time-consuming it is to make ground chicken into keema, which sometimes cuts and bruises to fingers.
But Giggsmeat knows this and brings the solution by providing this ground chicken in Keema form. So, now you don't need to do all this stuff just one click, and you get it delivered at your doorsteps and then just put some masalas, and there you go,
Giggs keema makes samosa, paratha, cutlets, burger Tikki, meatballs, and the most famous keema curry with delicious dishes. Just order on giggsmeat.com and get your keema delivered at your doorsteps.
At giggsmeat, we give fresh Chicken online delivery as we are the best chicken meat online.
5) Chicken Thigh(boneless)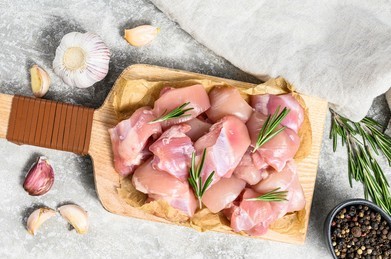 The chicken thigh is one of the juiciest parts of the Chicken, full of flavour and juiciness. We offer you boneless Chicken online, which consists of dark meat.
The dark meat is usually extra flavourful as they contain more fat and juices. This makes it ideal for a variety of dishes and cooking styles as it is easy to cook. There is no danger of it being overcooked, and it is a versatile cut of meat.
It can be curried, baked, broiled, grilled, steamed and can be used to make dishes limited by only your imagination and creativity.
Giggsmeat gives fresh Chicken online delivery and frozen chicken home delivery with its easy to checkout online delivery platform with walk-in retail stores.
Ready to Eat Chicken Meat Online
Gigg's are always run with the trend and think for all age groups and professions as today all of us are so busy earning a well-balanced livelihood. For that, all family members have to go to work, and in that tight schedule, they barely have the energy to prepare the meal for dinner.
On the other hand, we youngster's have got this bad habit of midnight cravings, and we hardly know how to cook, especially boys and whenever boys do cooking, this means Disaster in the kitchen!!
So, to the rescue of everyone, Giggs brings ready to eat, which means you have to order fresh Chicken online prepared to eat, tear the pack and microwave or deep fry whichever you feel comfortable with and don't worry, every instruction is provided on packets.
So, order Chicken online and sit back and enjoy your midnight craving with Giggs meat's fresh Chicken online, which is ready to eat.
1) Chicken Burger Patty
Gigg's chicken burger patty is filled with all flavours and with a blend of sweet chicken juice. We have the best chicken patty because of our plant and hand-picked poultry farms, with our expert team taking good care of chickens there.
Gigg's patties are preservatives free which keeps them fresh and tastes just like the fresh ones. All this is possible because of the cuts.
So, bring your party gang to have a blast with the giggsmeat chicken burger patty, but don't forget to order Chicken online from giggsmeat.com; otherwise, there'll only be buns left, not crispy, tasty cakes in them.
2) Chicken Nuggets
The Gigg's chicken nuggets are a good twist on the famous Chicken fast food. The chicken nuggets are made from our top quality chicken cuts and are suitably breaded and battered with care and passion, and it also gives Chicken fresh delivery.
You can rest assured about the quality and freshness. We do not use any preservatives. So get your hands on Giggs chicken nuggets today and bring restaurant-quality taste to your homes without the accompanying worries about health and hygiene, and also do not worry about its salt content.
We at Giggs prepare all items under industry health norms and online selling instructions so you can order fresh chicken nuggets online without worrying about their taste and standard.
3) Chicken Seekh Kebab
The Gigg's Chicken seekh kebab is a unique item offered to tantalize the taste buds of all meat-eaters, severe and non-serious alike.
When it comes to timeless meat dishes, the chicken seekh kebab is a bona fide classic. So, order chicken kabab online now!
This famous and much-loved meat appetizer combines the best of minced meat and aromatic spices.
These kebabs can be enjoyed at your terrace or backyard BBQ party with your friends & family.
But there is one thing due to our no added preservatives policy. This seekh kebab has a short shelf life so, order and invite your gang and enjoy the freshness of minced Chicken blended with bursting flavours and enjoy fresh chicken kabab online order on the same day.
So, smoke your BBQ and order chicken kebabs online, and Giggs will be there with your kebabs.
4) Chicken Tikka
The gigg's chicken tikka is very well coated with spices for the Boombastic mouth explosive, and taste buds enhancer dish is preservatives free with the best-cut chicken pieces with same size portions so that in your party no will fight over that the other guy got the big part and other got smaller.
So, Giggs, take care of your internal health, mind, and outer body because we want our customers to post their happy images in review, not the bruised one over just some size portion issue.
Order raw Chicken online with Giggs meat fresh chicken home delivery now!